Review: De Niro And Travolta Face Off In 'Killing Season'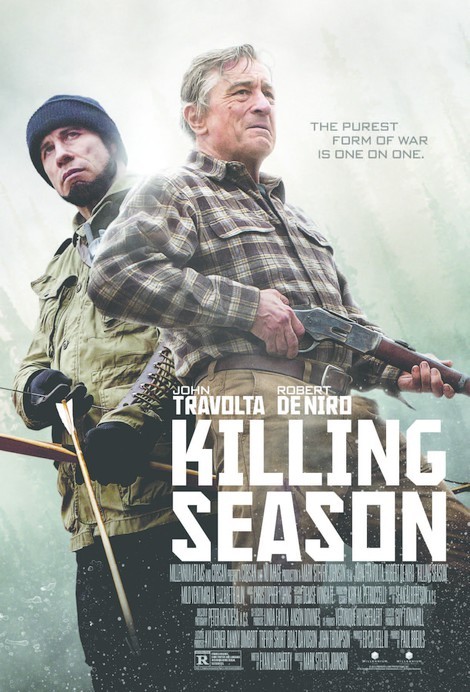 "Killing Season," originally titled "Shrapnel," stars seasoned actors Robert De Niro and John Travolta. The psychological thriller revolves around two former Bosnian War veterans who strike up a friendship after a outlandish encounter in the Appalachian Mountains. Their seemingly friendly relationship takes a turn when Emil Kovac (Travolta) and Benjamin Ford (De Niro) start to duke it out in thrilling fashion, forcing the men to face their past emotional wounds head on.
The film shines light on the psychological wounds left behind from the Bosnian War. Kovac, a former Serbian solider, hopes his (torturous) time with Ford, a former American solider, will provoke him to confess his sins. Instead of calling for help – or removing himself from the situation – Ford engages in Kovac's cat and mouse game. The two men cleverly torture one another, divulging secrets about their past in the process.
Although Travolta's portrayal of a Serbian soldier may seem out of the ordinary, the actor spent a lot of time preparing for the role. The actor flew to Bosnia to educate himself on the war: "I had more research to do on this than any other movie I've ever done because I needed more explanation about the war. So I decided on my own accord, at my own expense to fly to Bosnia and Croatia to interview Serbs, Croats and Bosnians to find out each of their perspectives."
The thriller also features Milo Ventimiglia as Chris Ford, the son of Benjamin Ford. Their tainted relationship gets revitalized after Ford's twisted time with Kovac. Ventimiglia insists his time with De Niro and Travolta was "fun" and "exciting," explaining "It's always a cool thing when you get to meet and work with your idols."
"Killing Season" was directed by Mark Steven Johnson ("Ghost Rider," "Daredevil") and Evan Dougherty ("Snow White and the Huntsman") wrote the screenplay. The movie appears in select theatres today.