Review: Dark And Twisted 'Leap Year' Saved By One Fearless Performer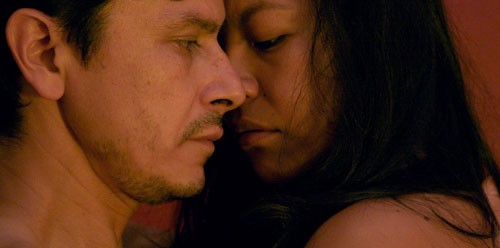 Not to be confused with the Amy Adams romantic comedy, this Mexican import looks at the other side of that lighthearted coin – namely sex, humiliation and a ton of sadomasochism.  Trying to capitalize on the same erotic and neurotic tone ala Bernardo Bertolucci via "Last Tango in Paris," "Leap Year" is unfortunately a flawed film that owes everything to one fearless performer.
Monica del Carmen plays Laura, a journalist who lives by herself in a very small and cramped Mexico City apartment.  Day to day life has become a series of uneventful trips, mundane tasks and an exercise in sheer and utter loneliness.  She tries to connect with various men she meets and has one-night stands with, but to no avail.  That is until she meets would-be actor Arturo (Gustavo Sanchez Parra) and over time the two develop a very dark, sick, twisted and sexually satisfying relationship that pushes the boundaries of what turns a human being on.
Make no mistake - there are some seriously perverse sexual acts within "Leap Year" that are not for the faint of heart.  Though surprisingly with each encounter between Laura and Arturo things just get so dark that eventually our compulsion to watch gets swallowed up right along with it.  (Bertolucci had a handle on this that remains unmatched!)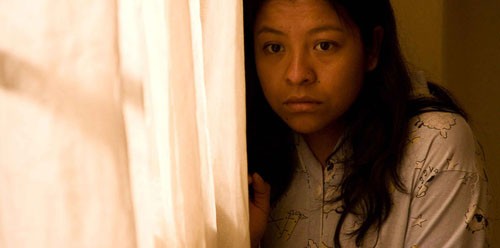 The film has much more impact, especially early on, when it's just a captivatingly dour Monica del Carmen by herself.  In fact, it's her haunting and affecting performance here that saves "Leap Year" from becoming just another movie about abhorrent sexual behavior.  From seeing her shop with a nagging sense of longing to her bold acceptance of physical and mental degradation, Carmen opens up every emotional pore to captivate the viewer – and it works.
The rest of the film is frankly Tango light, with plenty of forgettable rough sex and domination, but it's the work of Carmen that resonates long after the sexual shocks and climaxes wear off.
"Leap Year" opens in select theaters on Friday, July 1 from Strand Releasing.
_____________________________________________________________________________________________________________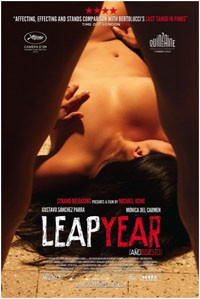 Title: "Leap Year"
   Stars: 3
   Genre: Drama
   Cast: Monica del Carmen, Gustavo Sanchez Parra, Marco Zapata
   Director: Michael Rowe
   Running Time: 92 minutes
   Release Company: Strand Releasing
   Website: www.strandreleasing.com