Review: 'Criss Angel Believe' Is A Show To Believe In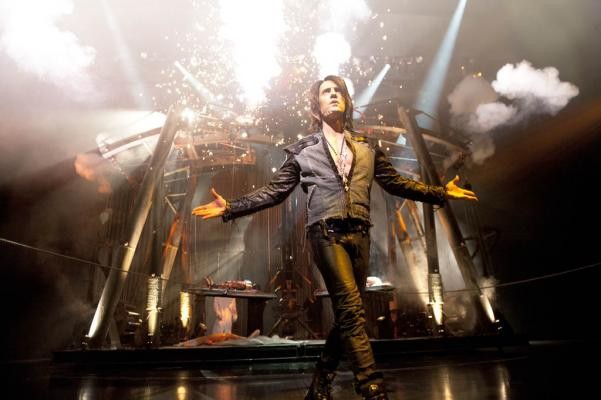 The best thing you can say about entertainment in any form is that it makes you excited about life. Criss Angel Believe is one of those rare experiences that will make you excited about life.
There's no shortage of magicians in Las Vegas, including several very talented ones. The legendary David Copperfield is in residence at the MGM Grand. Penn and Teller are successful at the Rio. No slight is intended to their talent in calling Angel the best among them all, and quite possibly the best illusionist ever, period. It's simply that Angel, in partnership with Vegas mainstay Cirque du Soleil, has created a live show that is everything a perfect magic performance should be and then some.
Believe is about to celebrate its fifth year at the Luxor Hotel and Casino, and it's not hard to deduce how it's reached that accomplishment. When you're named Magician of the Century, as Angel was in 2009, the bar is immediately set stratospherically high for anything you do. Not to mention that it's happening in Las Vegas, where everyone has their own accolades and wants to be larger than life. Yet in Angel's case, he can back up the hype with the final product. His show demonstrates a razor-sharp understanding of his audience: it's epic enough to take full advantage of its spacious, beautiful theater, yet intimate enough that you don't get lost in it; there are illusions here that will move the most diehard of magic fans, while there are also a number of simpler ones that serve as a perfect introduction for those who may never have seen an illusionist before. No matter how you approach the show, you're going to enjoy it.
And while we're on the subject of hype, many performers build a stage persona that's about as big as their shows. Magicians particularly seem to do this, with it having become cool somewhere along the way for them to try and be 'edgy.' If you took one look at Angel and judged him on his appearance, or even his A&E TV series Mindfreak, you might think he was one of those guys - and you'd be incredibly off the mark. He's got the look of a bad boy, down to the fondness for the color black and the motorcycles, but he's not posturing. Once he begins to engage the audience, you quickly realize what a warm, funny and genuine person he is - easily the most charismatic illusionist we've ever seen take the stage.
But that's all examining the show as a piece of entertainment. What really sets Criss Angel Believe apart is that it functions on a whole other level. It's not just remarkable magic; it's a transcendent piece of art.
The easiest way to encapsulate what Angel has accomplished with Believe is to explain it to you through my own history. My introduction to magic was in the second grade, when my friend and I went to a school show and were immediately taken by the wonder of it all. We wanted to have those kinds of special powers, and for years we'd pretend we were magicians. At that age, we didn't understand how magic actually is performed; we just enjoyed watching it happen.
Unfortunately, that friend of mine died twelve years ago. In his memory, I decided to pursue our shared childhood dream of magic, and went to Las Vegas to take a one-day course at the Steve Wyrick Magic Academy. Once I had actually been taught how some illusions are done, I began to appreciate magic from a technical standpoint. I still am awed by how intricate it can be and how many people beyond the artist themselves it takes to put together a show. There's a science that exists within the art that fascinates me just as much as the art itself.
I've since had the pleasure of seeing a lot of magicians, many of whom I've enjoyed, but there was always something missing. I was a major fan of Wyrick when he was performing at Planet Hollywood, because he took me back to that childhood feeling of amazement, even though his illusions were relatively easy for me to figure out. Conversely, when I watched David Copperfield, it was a pleasure because he's such a skilled technician. I wasn't affected by what I was watching, but I was having a fantastic time admiring his craftsmanship, attention to detail, and how he put his show together.
The truly remarkable thing about Criss Angel is that he is the best of both worlds. Watching Believe, I didn't have it all figured out, although I certainly wanted to. I loved the inventiveness, the use but not overuse of multimedia and effects, the perfect pacing. Simultaneously, I was moved by the experience of the show. Even though the technical side of me knew that I was being fooled, I didn't care, because I was constantly captured by what I was seeing anyway. I was in the moment, whether it was laughing or having my jaw drop at one of the over 40 illusions. After the show, I went home and picked up a magic kit for the first time in over a decade, not just because I'd rediscovered my interest in magic, but because I felt like I could do something spectacular.
And that's the amazing part. What really comes across in Believe is the passion that Angel has for magic, for the grandeur and the wonder, and his performance and personality enable the audience to understand that emotion, and feel it for ourselves. We have a certain perception in pop culture of the magician with the top hat and the bunny rabbit, genially entertaining us. The truth is that magic is so much more: a beautiful art married to a precise science with the capacity to astonish. Through Believe, Criss Angel reveals the true complexity of the art form, and in so doing, he also reminds us that anything is possible. No matter who you are, no matter how much you know about magic, this is a performance that you have to see. It won't just blow your mind; it will quite possibly change your life.
You can watch the trailer for Criss Angel Believe above. More information about the show - including tickets and performance schedule - is available on the Luxor Hotel and Casino website, Luxor.com. You can also visit CrissAngel.com and follow Criss himself on Twitter (@CrissAngel).
(c)2013 Brittany Frederick. Appears at Starpulse with permission. All rights reserved. No reproduction permitted. Visit my official website and follow me on Twitter at @tvbrittanyf.