Review: Check Out Fastball 'Little White Lies'

It has been five long years since we last heard from
Fastball
, and not since 2004's widely overlooked '
Keep Your Wig On
' has the band released an album. Well, the wait is over and the time has come, as the bands' latest, and fifth studio, album, '
Little White Lies
,' has been dropped.
Sure you remember Fastball. They are the same band that sold millions of albums during the nineties, dominated the radio and spawned top hits like 'The Way,' 'Fire Escape' and 'Out of My Head.' Unfortunately for the band all three of those hits came on their platinum selling '
All the Pain Money Can Buy
,' which was released in 1998. But that album made the band a household name as it went on to sell in excess of 1,000,000 copies and even garnered two Grammy Nods, for Best Rock Performance by a Duo or Group with Vocal and Best Long Form Music Video. Perhaps the worst thing for the band was their follow-up, 2000's '
Harsh Light of Day
,' failed to sell even 100,000 records, only selling 85,000.
Pretty much since then the band has fallen into a sort of relative obscurity, that is, until now.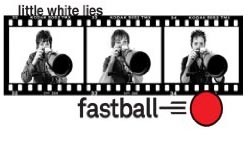 Their latest disc, 'Little White Lies,' finds the Austin, Texas products picking up right where they left off with 'All the Pain Money Can Buy.' This album is full of the sort of Texas-meets-Midwest indie alt-pop sound that the boys have matured into, complete with a full production sheen courtesy of the famed
Bob Clearmountain
, whose credits include working with the likes of
Paul McCartney
, the Who and the Cure. Yes, listening to 'Little White Lies' will bring you back to the 1990's, which was a simpler time in music, and as a matter of fact, everything about Fastball screams 90's. But that isn't always a bad thing.
Musically, this record doesn't translate so well to today's scene, but rest assured Fastball still has a spot in it, but don't expect to hear a triumphant return to the radio for these guys. 'Little White Lies' still is one of the better indie records to be released this year, although there is a good chance it might go largely unnoticed by people outside of the bands' cult circles. Regardless, if you have heard Fastball before, it might be time to hear them again.
Grade:
B
Listen to:
'She's Got the Rain,' 'Always Never'
Story by
Brian Campbell
Starpulse contributing writer