Review: 'Captain Phillips' Will Keep You On The Edge Of Your Seat Till The Credits Roll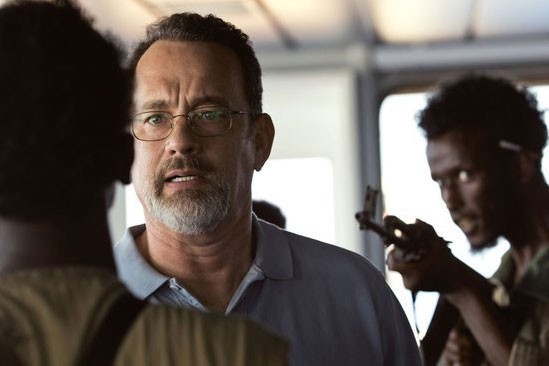 There are many reasons to see this film, but here's three.
Number One: This is one of the best directed films I've seen in 2013.
Number Two: Tom Hanks as Captain Phillips has never been better.  
Number Three: John, the other half of Two Jews On Film (the super critical half) awarded it with five bagels out of five.
'Captain Phillips' directed by Paul Greengrass is an edge of your seat thriller.  It's based on a true story that took place in 2009 off the coast of Africa. Somali pirates take an American sea captain hostage, while simultaneously, exposing the underlying economic divide that sets the events in motion.
The story begins in Vermont, where Capt. Phillips (Tom Hanks) leaves his wife (Catherine Keener) and family to sail cargo halfway around the world. At the same time, we travel to Somali, where pirates led by a former coastal fisherman, Muse (Barkhad Abdi) is planning to overtake one of the high value ships that passes through his coast daily. Apparently their waters have been over fished by Americans and they can no longer make a living as fisherman. They believe that piracy is there only way to survive.
The film basically focuses on the intense relationship between Muse and Phillips, as the Captain tries everything in his power to protect his crew. The first time actors playing the pirates are absolutely fantastic and they definitely hold their own against Hanks. Even though everyone knows how this story turns out, it doesn't spoil the edge of your seat tension that you will experience.
Besides the pulse pounding excitement, the ending, thanks to Hanks incredible performance, will bring you to tears.  I know it did with me.
As I already said, John and I both gave 'Captain Phillips' which opens in theatres Friday, October 11, 2013 five bagels out of five and I bet you will too.
Check out our video for more of our thoughts.
Please SUBSCRIBE to our channel on YouTube and LIKE us on our Two Jews on Film Facebook page. Thanks everyone.
Love to know what you think of this wonderful film.