Review: Both Naughty & Nice, 'For A Good Time, Call...' Never Reaches Full Potential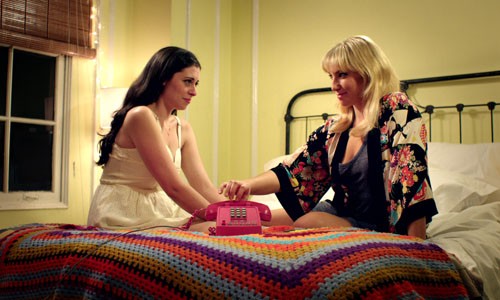 When it comes to comedies about relationships it seems as though there are two distinctive paths – racy and wholesome.  What's most interesting about "For A Good Time, Call..." is the fact that the film is essentially a bit of both, a feel good fest wrapped in a dirty subject matter package and it makes for an odd vibe that's certainly original.
As a couple of young college gals, opposites Lauren Powell and Katie Steel didn't exactly hit it off.  Upon giving the obviously intoxicated Katie a ride home, Lauren finds herself accidentally covered in Katie's urine and hatred is born.  Cut to years later and the two girls find themselves crossing paths again unexpectedly.  Seems Lauren's boyfriend has decided to take a job abroad and go single, while Katie is facing eviction for rent due.  Their mutual friend Jesse slams the two rival gals together again and they end up living together out of sheer desperation.  But it's when Lauren finds out that Katie is actually a phone sex operator and decides to join her out of her own no job desperation that the two begin to form an unlikely and interesting friendship.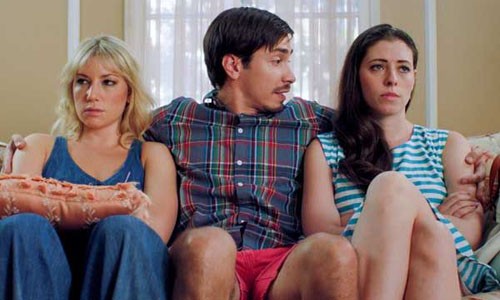 Yes, this sounds and feels a tad like a "Three's Company" episode and with a few saucy cuts it probably could have been.  But fortunately there is some nasty with the nostalgia for this one, meaning equal parts naughty and nice that ups the formulaic ante.  On the nice side there's a great chemistry between leads Ari Graynor and Lauren Anne Miller, both in their early antagonistic moments and their latter love not war phase.  (Not to mention some hilarity via guy pal Justin Long!)  And on the nasty side there's some tasty, funny and downright exciting discussion about everything from words to use during a dirty call to double-team phone action that heats things up.  (Think if Crissy and Janet were...phone sex operators!)  The only problem here is neither side actually reaches their full potential and makes for a film that's just okay.  Walking the tightrope between salacious and sappy, Writer/Director Jamie Travis really feels like he's trying to please everyone and ends up falling slightly short on all sides.
Again, "For A Good Time, Call..." does have some dirty laughs, dramatic bits and even heart when needed, but all feel equal parts watered-down and sanitized for all who attend.  Kneecapping any chance of being amazing, the "good" in the films' title is quite accurate indeed.
"FOR A GOOD TIME, CALL..." OPENS IN SELECT THEATERS AUGUST 31 FROM FOCUS FEATURES.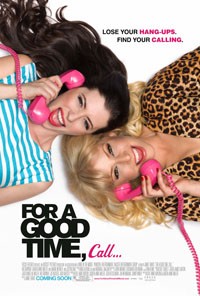 Title: "For A Good Time, Call..."
   Stars: 3
   Genre: Comedy
   Cast: Ari Graynor, Lauren Anne Miller, Justin Long
   Director: Jamie Travis
   Rating: R
   Running Time: 86 Minutes
   Release Company: Focus Features
   Website: http://foragoodtimecallmovie.com/