Review: Bobin And Segel Do Justice with 'The Muppets'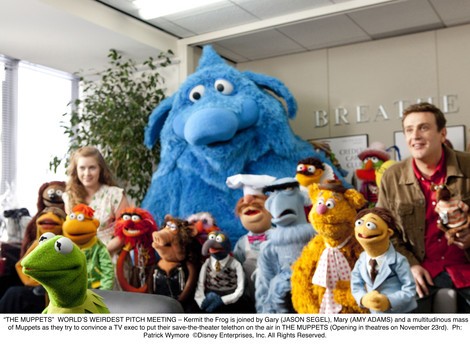 Disclaimer: I normally don't write reviews in the first person. Given my lifelong appreciation for the Muppets though, I felt my opinion wouldn't carry the same weight otherwise.

Growing up in the late 80s/early 90s, I watched Jim Henson's Muppets in all their wonderful forms: "Sesame Street," "Fraggle Rock," "Muppet Babies," and reruns of "The Muppet Show." Like other children my age, I was drawn to Kermit the Frog and his friends because of their vivid imagination, unflinching optimism, and ability to express themselves through entertaining songs.

As I got older, I kept watching the Muppets; despite the steady decline in the quality of their productions after Jim Henson's passing.  Time went on, and while I never forgot about the Muppets, I was sad that they gradually disappeared from popular culture. 
When the news broke that actor Jason Segel planned to bring them back for a new big screen venture, I became ecstatic.  Like other Muppet fans though, I worried that Segel's revival might be a poor representation of the characters or just plain unfunny.  After seeing "The Muppets," I'm thankful to say that my fears were for naught.  The film isn't perfect; however it superbly captures the playful spirit and enthusiasm that made the Muppets famous.
"The Muppets" opens with two brothers: a human named Gary (Jason Segel) and a puppet named Walter (voiced by Peter Linz).  Through a silly introduction, we come to find out that Walter, grew up idolizing Kermit and friends, and even as an "adult" he still loves them. 
Gary travels to Los Angeles with his girlfriend Mary (Amy Adams), and Walter tags along so that he can see the Muppet studios, but he's disappointed to find the studios in shambles.  While he's there, Walter also makes the terrifying discovery that an evil oil baron (Chris Cooper) hopes to destroy the property.  Walter, Gary, and Mary hope to stop him, so they hatch a plan to reunite the Muppets for a big show to save the studios.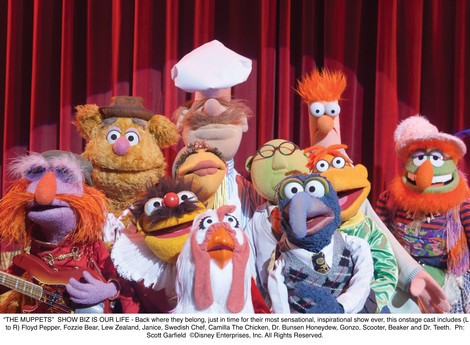 Director James Bobin and his writers Jason Segel and Nicholas Stoller, deliver a film that bears a lot of the classic Muppet traits: catchy songs, celebrity cameos and winking humor. 
Their songs aren't as lyrically impressive as other Muppet outings, yet the Muppets and their human counterparts still have solid numbers, such as "Man or Muppet."  Just like other Muppet productions, this one contains a laundry list of celebrities in various bit roles, including Jack Black and Sarah Silverman.  And let's face it; a Muppet movie wouldn't be the same without the characters talking to the audience.   
Despite all the positives there were some areas that I disliked.  One thing that bothered me was that the human presence seemed to overshadow the Muppets at points.  This was especially true in songs with Jason Segel and Amy Adams participating.  I also wished there was more Gonzo and Rizzo, since they cracked me up in the Muppet "Treasure Island" and "Christmas Carol" adventures.
Bobin and Segel do the Muppets justice, but because they went to such great lengths to please fans, they missed an important demographic: the next generation of viewers.  With 80s music like Starship's "We Built This City" and older celebrities, the film was made as an excuse for parents to see it, and not for parents and kids to both enjoy. 
If they had used a bit more modern music and personalities, they might have appealed to a more diverse audience.  Still, this film certainly treats the Muppets well, and if you already love them, you should enjoy the nostalgia factor.        
My Grade: B+