Review 'Battleship': Stick With The Board Game And Skip The Movie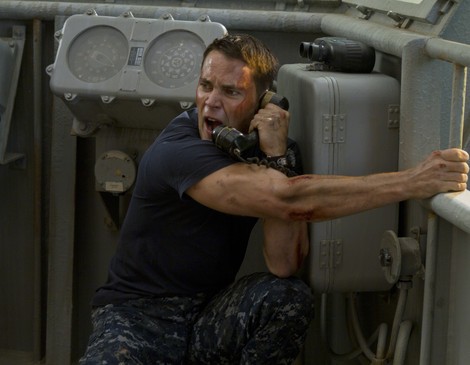 'Battleship' directed by Peter Berg (Hancock) has a poorly constructed script, ridiculous dialogue, cardboard characters and it's really, really loud. 
It does have bad ass aliens and some exciting visual effects but that is not enough to save this $200,000,000 fiasco.
When the film opens, we find out that a group of scientists in Hawaii have sent out a signal to Planet G whose atmosphere is similar to ours.  They must have been thinking, "wow another planet we get to ruin." Anyway, to the scientist's surprise their signal is heard.
That's right folks...The extra terrestrials are coming to visit and these dudes are not your mama's aliens.
Two Jews on Film - By Joan Alperin Schwartz
Unfortunately before our visitors get here we are subjected to a really hackneyed plot and slew of boring, bland characters, including:
Alex Hopper (Taylor Kitsch) a bad boy who's celebrating his 26th birthday in a local bar with his big brother Stone, (Alexander Skarsgard) a Naval Commander.
Alex overhears a girl Samantha (the very blond Brooklyn Decker) ordering a chicken burrito - too bad the kitchen is closed - but not to worry... Hopper is on it.
He breaks into a local convenience store, and returns with a big fat chicken burrito.  Too bad for Alex, he gets arrested before Samantha can see his six pack.
But no worries, once you give a girl food, she's yours forever; at least according to Erich and Jon Hoeber the writers of this mess.
Moving right along, Stone tells his brother he has to get his act together and the next thing we know...
Alex is a lieutenant in the Navy, under the command of none other than Samantha's father, Admiral Shane (Liam Neeson), and he's about to participate in the annual international war games which takes place at sea on these super sized ships (Navy men from all over the world get together to fake destroy each other).
Little did Alex know that before two long hours are up, it would be up to him to save the world from extinction.  Lucky for him, Rhianna is on his crew and all I have to say is... why? why? why?
'Battleship' which got one and a half bagels from me, is based on the Hasbro naval combat game and I'd recommend buying the game and avoiding this movie; unless you're an eight or nine year old boy.
Check out our video to see John's thoughts on 'Battleship' which opens in theatres, Friday May 18, 2012.