Review: Ariana Grande 'Yours Truly' - Ariana Grande Stuns Vocally Throughout Her Debut Album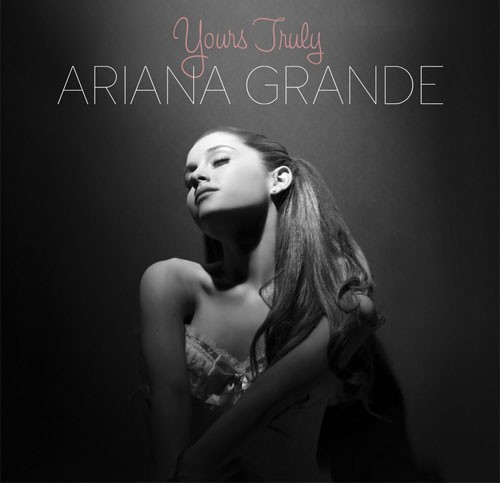 Very few singers have even a smidgen of the vocal talent bestowed upon R&B diva Mariah Carey.  She always will be one of a kind given her prodigious gifts, specifically her otherworldly vocal range.  However, no matter the veteran status as an artist or musician, the spotlight seems to diminish after a while, allowing room for the next, new and talented artist to 'spread their wings'. On her much anticipated debut effort Yours Truly, Ariana Grande instantly draws comparisons to a youthful Mariah Carey with her magnificent vocal range, most notably her upper extremes. Sure, Mariah Carey is the torchbearer, but the talented 20-year old Grande has plenty to offer, evidenced by this enjoyable contemporary R&B / pop album.
"Honeymoon Avenue" makes a strong first impression, with lovely strings creating a romantic, reminiscent soundscape behind Grande's magnificent vocals.  "I feel like my heart is stuck / in bumper to bumper traffic, I'm under pressure / cause I can't have you the way that I want / let's just go back to the way it was / when we were on Honeymoon Avenue…", Grande sings on the memorable chorus.  "Baby I", one of several singles released ahead of Truly Yours sounds as exceptional as it did the first time I heard it, slating somewhere between contemporary R&B and pop. Vocally, Grande continues to awe, particularly when the harmonized upper register vocals come into play, sweetly accentuating the performance even more.  Laden with swagger yet innocently sweet, "Baby I" is balance at its best.
"Right There" brings ubiqutious Detroit MC Big Sean on board.  Sean manages to keep it pretty clean, though he does keep it 100 when he states "…a player too, you know I have some girls missionary / my black book, and numbers thicker than the dictionary…" Sean definitely doesn't eclipse Grande, who continues to deliver clear, soulful, and alluring vocals. Sure it's love-centric ("I'm gonna stay right there / I'll always be right there"), but love is kind of a big deal, haven't you heard?  "Tattooed Heart" continues the lovey-dovey sentiment, with memorable lyrics such as "I wanna say we're going steady / like it's 1954, no it doesn't have to be forever…" or "Wrap me in your jacket my baby / and lay me in your bed / and kiss me underneath the moonlight…" Throw in the six-eight time and some vocal "la la las" and "Tattooed Heart" feels old-school without being anachronistic.
"Lovin' It" continues to showcase the promise of Grande, this time painting rhythmic hip-hop oriented drums.  Once more, the Mariah Carey falsetto layered vocals add even more sweetness.   "Piano" doesn't dare eclipse the albums juggernauts such as  the brilliant opening trio, but nor does it feel substandard by any means; the consistency is superb.  Similarly, the vintage-R&B number "Daydreamin'" may not supersede the best of the best, but it certainly continues to shimmer as oppose to fade.  And face it, can you deny such an innocent yet moving lyric's greatness like "You walked in / caught my attention / I've never seen / a man with so much dimension…" Just admit it, you can't!
"The Way", featuring Mac Miller, leads three straight highlights. As potent as it was when it hit the pop culture world earlier in 2013, "The Way" continues to draw the young Mariah references, rightfuly so.  "So don't you worry baby you got me / I got a bad boy, must admit it / you got my heart, don't know how you did it / and don't care who sees it, babe / I don't want to hide the way I feel when you're next to me / I love the way you make me feel / I love the way…", Grande sings on one of the more memorable refrains of the year.  "You'll Never Know" loses no steam, featuring rhythmic-driven vocals and once more production work that balances pop and R&B.  Vocally, the nuances and ad libs blow one away.  Throw in a duet ("Almost Is Never Enough") that should be sappy but isn't with Grande's boyfriend Nathan Sykes (of The Wanted), and things continue to 'look up'.  A musical oxymoron of sorts, "Almost Is Never Enough" is soulful, contemporary, old-school, yet fresh. Go figure.
"Popular Song" follows, contrasting the slow-paced "Almost Is Never Enough" with a solid, faster poppier groove.  Reprised from Mika's 2012 album The Origin of Love, the overall enjoyable cut feels ever so slightly out of place because of its contrast with everything else.  Still, for those who didn't purchase or hear Mika's 2012 album, it should definitely draw Lebanese pop singer some attention.  "Better Left Unsaid" closes capably, with Grande reminding me a bit of Leona Lewis.  It assimilates some with modern-pop, but there is enough R&B sensibility to ensure 'soul' doesn't get overshadowed.
Final thoughts? Yours Truly is a brilliant debut album from a singer who has gargantuan potential.  The material is well written and produced and Grande performs each and every song with passion and nuance.  There's really little to quibble about, so I won't bother.  Ariana, you have my approval.
Favorites:  "Honeymoon Avenue"; "Baby I"; "Right There"; "The Way"; "You'll Never Know"; "Almost Is Never
Enough"
Verdict: ✰✰✰✰
Ariana Grande |Yours Truly | Republic | US Release Date: September 3, 2013