Review: 'Anchorman 2: The Legend Continues'... Unfortunately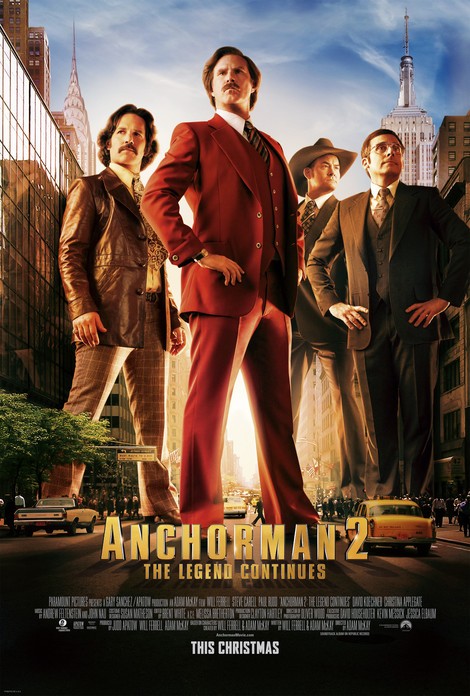 He's back! The 'he' is Ron Burgundy (Will Farrell) - the guy that delivers big news and perfect hair.
Seven years have passed since Ron won the heart of his co-anchor and now wife, Veronica Cornigstone (Christina Applegate). The couple, who now have a son, are the top anchors at a local San Diego news station and they couldn't be happier.

But it doesn't take very long for things to change for Ron and his family - when they are called into their boss, Mark Tannen (Harrison Ford) office. Expecting Tannen to announce his retirement, the duo thinks that they will become his replacement.

Well they are half right. Veronica is named as Tannen's replacement and Ron is fired.

So what do you think this loving husband does? Does he congratulate his wife on her new gig? Nope, not our Ron, he gives Veronica an ultimatum... it's me or the job. She takes the job.
So what's a former news star to do? Get a job at Sea World of course. Unfortunately, this does not go well. In fact, Ron is so bad as a Sea World announcer, that even the little kids boo him.
However, it doesn't take long before Ron's fortunes take a turn for the better. Freddie Shapp (
Dylan Baker
) a mid-level producer at GNN - an upstart 24 hours cable news network, owned by Australian multi-millionaire Kench Allenby (
Josh Lawson
) - offers him a job.
Ron quickly rounds up his classic news team. Sports guy Champ Kind (
David Koechner
), man on the street Brian Fantana (
Paul Rudd
) and weatherman Brick Tarniand (
Steve Carell
); and they head for the Big Apple.
Upon arriving, Ron is quickly challenged by his strong female boss, Linda Jackson (
Megan Good
) - which gives Farrell's character every opportunity to make the most racist, inappropriate jokes.
To make matters worse, Ron is assigned to the grave yard shift of 2:00 AM. And Jack Lime (
James Marsden
) - the drop dead gorgeous, prime time million dollar anchor, with glistening white teeth - makes it his mission to torment Ron every chance he gets.
But guess what folks, we're talking about Ron Burgundy, anchor extraordinaire and believe me, nothing ever defeats this guy. Not wanting to give too much away, Ron surprises everyone and changes the face of news forever.
On one level '
Anchorman 2
' is at times a very funny satire about how news has changed. Nightly news is now about car chases, weight loss tips, and what movie star is doing who; you get the idea.
A great deal of this of this film (for me) just doesn't work, especially the romance between 
Kristen Wiig
and Steve Carrell. Kristen is much too funny a lady to be doing this kind of schmuck.
The jokes become repetitious and the film goes on for much too long. There is a funny bit towards the end involving some surprising cameos, but even that wasn't enough to save this movie.
'
Anchorman 2: The Legend Continues
' written by Farrell and McKay, opens in theatres, Wednesday, December 17, 2013.
I gave the film 2 1/2 bagels out of 5 and I'm sure John's score would have been even less.
Check out our video for more of my thoughts on the film.
Please SUBSCRIBE to our channel on YouTube and LIKE us on our Two Jews on Film Facebook page. Thanks everyone.