Review: '2 Days In New York' An Entertaining, Quirky Visit With An Eccentric Family & Chris Rock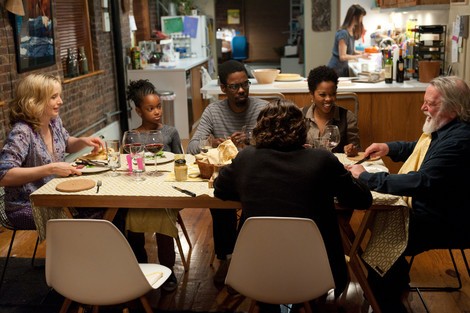 We first met the character Marion (Julie Delpy) in the film "2 Days in Paris" along with her real life boyfriend at the time, Adam Goldberg.
Now years later, Marion, a photographer about to have her first gallery show, is living happily ever after in New York City, with her boyfriend Mingus (Chris Rock) a journalist/on air radio personality and their respective children.
One day, out of the blue, Marion's super jolly father, Albert (played by her real life dad, Albert Delpy), her oversexed sister, Rose (Alexia Landeau) and her pot smoking, obnoxious ex boyfriend, Manu, come for a visit.
To say that Marion and Mingus's world is turned upside down by this eccentric family would be an understatement.  
But for Marion, the timing of the visit couldn't be worse.  Old wounds are opened up, the recent death of her mother plus Marion's intense love-hate relationship with her super judgmental sister, Rose.
On top of that, Marion is nervous about her show, where she's planning on auctioning off her SOUL for $10,000. (It's a statement) Oh she's also being driven by loud pipes and her annoying neighbors, but hey, it's New York, right?
And then there's Mingus'.  He's having imaginary conversations with Obama, trying to be a good father to his kid and communicate with Marion's French speaking dad.
Delpy co-wrote "2 Days in New York" with fellow actress Landeau and she directed the film as well. 
This is a funny, quirky, touching comedy and it works on every level.  I predict you'll walk out of the theatre thinking...your family is not that much different from Delpy's.  There are times they make you scream, drive you crazy, even make you cry, but in the end, you never stop loving them.
"2 Days in New York' opens in theatres Friday August 17, 2012 and definitely deserves the 3 1/2 bagels I gave it.  John on the other hand, was less generous.  Check out our funny video for more of our thoughts.
Two Jews on Film - By Joan Alperin Schwartz
Please SUBSCRIBE to our channel on YouTube and LIKE us on our Two Jews on Film Facebook page.  Thank everyone...and let us know your thoughts on "2 Days in New York."