'Revenge' Star Emily VanCamp Shows Her Sexy Curves In The Jan./Feb. Women's Health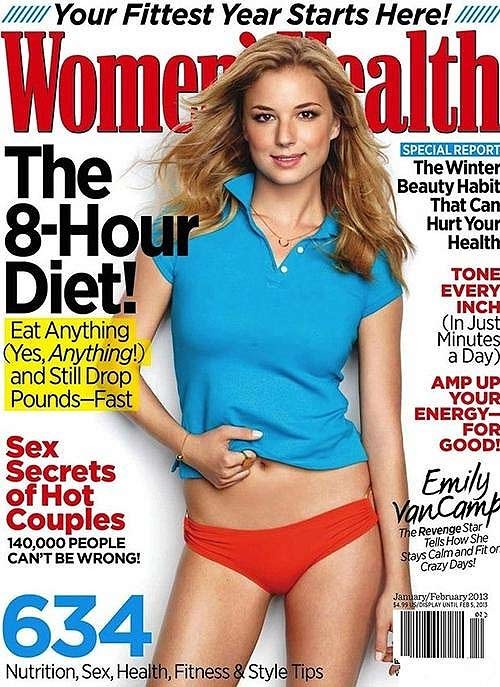 Revenge star Emily VanCamp talks about her relationships, cooking and aging in the new issue of Women's Health magazine.

did a sexy shoot for GQ magazine back in October, but Emily she likes it best when she doesn't have to be all dressed up.

"I'm at my most confident when I'm in nature and I don't have to dress up. When I take off my makeup, that's my boyfriend's (Revenge co-star Josh Bowman) favorite," she says. "And that, to me, is a symbol of a great guy - someone who doesn't care about all that stuff.

"It's more about accepting each other as separate people. That's the fundamental that I try to approach a relationship with. Laugh a lot and be really delicate with the other person's heart, because sometimes you start to take each other for grant. Always remember that neither of you needs to be there. It's a choice every day to stay together."

Emily also likes to keep thing simple on her days off and prefers to stay in bed, go fishing with Bowman or head to the kitchen.

"I'll have a big stew going or chili or soup. Something hearty that reminds me of home. Cooking is therapy for me in a weird way. When I'm in the kitchen, I'm in a zone and everything else kind of goes away," she says.

The 26-year-old also reveals that she's not afraid of getting older, so it's a good bet she'll be staying away from the surgeon in the future.

"I mean, to each his own, and I know there are those pressures..." she says; "But I look at my grandmother and think, Wow, I hope I have those happy winkles. You see the map of her on her face, and she's so beautiful. She wouldn't be my grandma without those beautiful lines."

Check out more of Emily and read her full interview in the Jan/Feb issue of Women's Health magazine, on newsstands everywhere now.