Revamped 'Law & Order: Los Angeles' Still Underwhelms
NBC brought back Law & Order: Los Angeles last night with two all-new episodes. While the series definitely improved, it's a shame that only brought it from unwatchable to passable.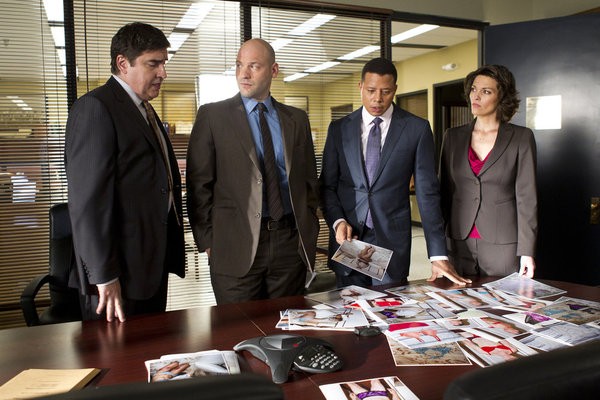 The show decided to bring back some of the hallmarks of the franchise, including an opening narration and title sequence, but they're not great. The theme was so quiet that I had to listen closely to even follow it, not like the distinctive themes from the previous editions, and the title sequence was a slow-motion affair that felt overdone. Both failed to evoke the fondness of their predecessors. And a theme and title sequence, even if done well, couldn't make up for the flaws in the series itself.
The first episode, "Zuma Canyon," was the last for Skeet Ulrich as Detective Rex Winters. Killing him would have been a lot more effective if we hadn't known that it was coming for the last two weeks. As it is, it was hard not to watch Ulrich's final performance without constantly thinking that he was soon to be bumped off. When it comes to killing off main characters, Southland did much better when it said goodbye to Nate Moretta (Kevin Alejandro) - not only was it not promoted, it was a gut-wrenching hour of drama. Winters' death was spoiled long ago, and it wasn't particularly gripping, besides. And while cop killer episodes are usually some of a show's best, "Zuma Canyon" was pretty much another story about Mexican gangs, with predictable beats like the murdered witness and the political red tape.
Ulrich's absence from the latter half of the episode did allow Corey Stoll to chew up extra screen time as Detective Tomas "T.J." Jaruszalski. Stoll was the one standout for me amongst this cast when I covered the show initially, and he did give his best in this episode, but the script didn't allow him much opportunity to run with the concept of a man who's just lost his colleague and confidant. That's where the Law & Order formula can be detrimental; character time is secondary to moving the plot forward. Alfred Molina likewise played Ricardo Morales with vigor, although his decision to become a cop seemed a little rushed as it was introduced near episode's end. Yet if not for their two performances, I'd have been watching another boilerplate cop show.
The second episode, "Silver Lake," was carried by the amazing performance of White Collar star Tim DeKay. It was strange but interesting to see him as the victim when I'm so used to him as the investigator, and I mean that as high praise; he was miles away from the character of Peter Burke. In his first episode as a detective, Molina made a pretty good partner for Stoll, but it's hard to judge how they'll gel long-term. Some partnerships, you can see instant chemistry from the first one (like, for example, DeKay and Matt Bomer on White Collar); others take awhile. This may be one of the latter cases.
It was a great idea to bring back Alana de la Garza return as Connie Rubirosa; she was stellar in the final years of the original Law & Order, and it's like she hasn't missed a beat since then. But having seen how well she worked with Linus Roache on that series, it makes her pairing with Terrence Howard look particularly ill-fitting. That can certainly change, but it sticks out like a sore thumb so far. Howard has always seemed like he wants to be the biggest personality in the room, and that's still the case. Too much of the time, he distracts from whatever point he's actually trying to make. Between that and a pretty uninteresting plot, I was tempted to use my fast-forward button a few times, and struggled to make it through the episode.
It's clear that changes have been made on the show, but I think they missed the point. Yes, it's nice to have the title sequence back, and the cast alterations seem decent thus far, though I wouldn't say they were as important as they're being touted. But the show didn't address its weak writing and underdeveloped characters (even for L&O, which has always put plot before character). It's like giving an old car a new coat of paint; it looks nicer, but it's still fundamentally creaking along.
Though it's improved somewhat from its dismal debut, LOLA still doesn't amount to much more than an average cop drama. This is a show I'd put on for background noise or if there's nothing else on, not that I'd actively seek out. With FOX's The Chicago Code and CBS' Hawaii Five-O airing on the same night - the latter in direct competition with LOLA - viewers can do much better than its formula. I was willing to give it a second chance yesterday, but I won't be giving it a third.