Rev Theory Cancels Tour After Guitarist Slashes Tendon In His Hand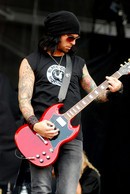 Heavy rockers Rev Theory have scrapped an upcoming tour after guitarist Julien Jorgensen slashed a tendon in his left hand at a Las Vegas wedding.

Jorgensen has undergone an operation on his hand, which was sliced by shards of glass from a broken bottle, and he is expected to make a full recovery - but not in time for the tour, which was scheduled to start in San Francisco, California on Sunday.

Jorgensen says, "I am super bummed that happened, and it is a freak accident. It is a helpless feeling. I feel bad about dropping off the tour and disappointing the fans. As soon as I am able, we will be back on the road."