Reunited Denise Richards & Richie Sambora Bonded Over Family Cancer Tragedies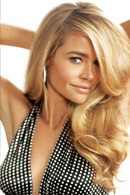 Denise Richards and Richie Sambora's relationship in the 2000s was put to the test when they were both hit by family cancer tragedies, with the actress branding the trying time their "biggest bond."

The Bon Jovi star began dating Richards in 2006, shortly after his marriage to Heather Locklear collapsed and the former Bond girl separated from her ex-husband Charlie Sheen.

They've since reunited, and Richards admits they've always shared a strong connection after Sambora's father lost his fight with cancer in April 2007, just months before the actress' mother Joni died of the same disease.

She tells Living With Cancer magazine, "It was our biggest bond. We were able to be each other's rock - moments I was sad, he was there, and vice versa. It was very helpful."