Retired Baseball Star Manny Ramirez Banned From Contacting Wife After Domestic Dispute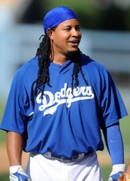 Baseball star Manny Ramirez has been ordered to stay away from his wife following his arrest on Monday on domestic violence charges.

The former Los Angeles Dodgers and Boston Red Sox player was taken into custody following an alleged altercation with his wife Juliana at their home in Florida.

He appeared at a bond hearing in Broward County Court on Tuesday morning, when a judge banned him from having any contact with his spouse until the investigation into the case was complete.

He posted $2,500 bail after the court appearance and was subsequently released.

Ramirez, who was suspended from baseball for violating the game's drug policy in 2009, retired as a Tampa Bay Rays player earlier this year after reportedly testing positive for a banned performance-enhancing drug.