Resurrected 'Lethal Ladies Fest 2014' Countdown - Video Tribute #3!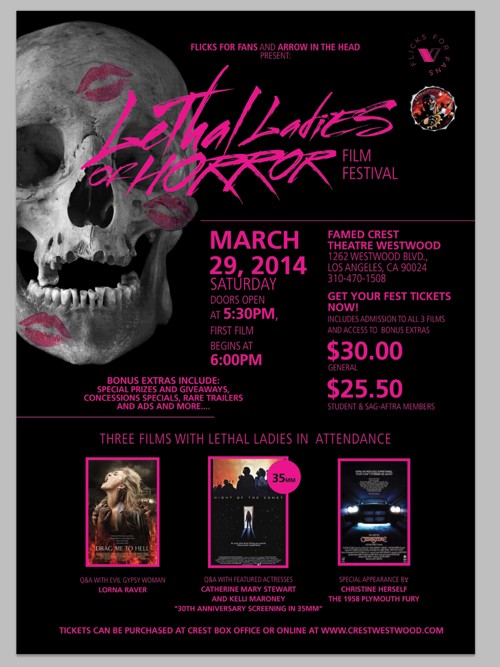 The Lethal Ladies are getting closer! 
That's right horror fans - the upcoming "LETHAL LADIES OF HORROR FILM FESTIVAL" is happening this Saturday, March 29, 2014 at the famed Crest Theatre in Westwood in LA beginning at 6pm!  The very tasty looking fest is brought to you by Flicks for Fans and Arrow in the Head and we're celebrating its impending doom with again more memorable video fun!
Today's clip is from the classic 80's quirk flick "Night of the Comet" and features our two lone Valley gals (that would be Catherine Mary Stewart and Kelli Maroney who will be in attendance for the 30th Anniversary screening in 35mm!) shooting guns, throwing TV's and even going toe-to-toe with Ivan E. Roth's uber-memorable baddie Willy the stockboy turned store owner!  Check out the clip below:
Don't forget folks alongside "Night of the Comet" the Lethal Ladies of Horror Film Fest will also feature Sam Raimi's "Drag Me To Hell" with special guest Lorna "evil gypsy" Raver and John Carpenter's "Christine" with an appearance by the 1958 Plymouth Fury herself.  Plus prizes, giveaways, special trailers and much much more!
GET YOUR TICKETS TO LETHAL LADIES FILM FEST BY CLICKING HERE!