'Resident Evil' Walk-On Role Offered To Fans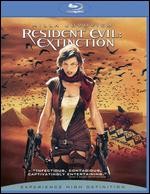 Fans of the Resident Evil franchise have been offered the chance to win a walk-on role in the next movie installment.

Bosses have launched an open casting call to find a new face to play an 'undead' part in the upcoming fifth movie, Resident Evil: Retribution.

Fans aged between 18 and 34 have been asked to submit a minute-long audition tape acting out their favorite Resident Evil line for a shot at the once-in-a-lifetime prize.

Leading lady Milla Jovovich has encouraged her devotees to try out, 'Tweeting', "If you wanna send a video in, go for it!"

The submission period ends on October 3rd and filming on the project is due to begin in Canada later this year.