'Repo! The Genetic Opera' Slices Its Way To DVD

From the producers of the
Saw
franchise and director
Darren Lynn Bousman
(
Saw II
,
Saw III
and
Saw IV
), based on a screenplay by Darren Smith & Terrance Zdunich from their original stage play, comes the new cult classic
Repo! The Genetic Opera
. A futuristic tale of horror that modernizes the "rock opera" genre with original music and rich, dark production design, the film features an eclectic cast that includes
Anthony Stewart Head
,
Sarah Brightman
,
Alexa Vega
, Bill Moseley and
Paris Hilton
. The blend of
Moulin Rouge
style with
The Rocky Horror Picture Show
theatrics results in a unique viewing experience that comes to life on DVD and Blu-ray. At the core of this entire project, however, is the music, which is born of many influences. This rock opera boasts an entirely original soundtrack that blends equal parts Goth and punk rock to form an eerie and powerful musical narrative. The DVD contains in-depth special features that include cast and crew audio commentaries and featurettes while the Blu-ray Disc includes those features plus video sing-a-longs, additional featurettes, deleted scenes and a bonus audio commentary with Paris Hilton and director Darren Lynn Bousman.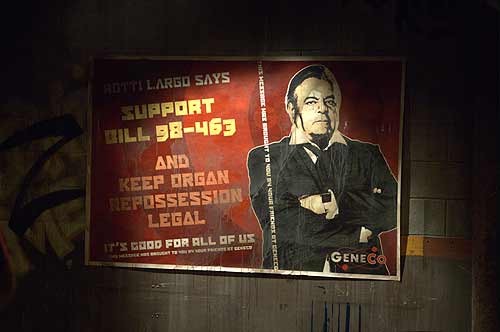 Repo! The Genetic Opera
was an Official Selection of the Fantasy Film Festival, Toronto After Dark Film Festival, Sitges Film Festival, Atlantic Film Festival, Edmonton Film Festival and Austin Fantastic Film Festival and was hailed by horror fans and critics nationwide. The film was declared "a spirited, absorbing, astounding, thought provoking futuristic fulsome fable" (
Horror.com
), "fresh, unique and exciting…remarkable" (
Bloody-disgusting.com
), "an instant cult classic" (
Fearnet
) and "absolutely mind-blowing on a visionary level" (
Horror-Movies.ca
).
In the not-so-distant future, a worldwide epidemic of organ failures devastates the planet. Out of the tragedy, a savior emerges: GeneCo, a biotech company that offers organ transplants... for a price. Those who miss their payments are scheduled for repossession and hunted by the villainous Repo Men. In a world where surgery addicts are hooked on painkilling drugs and murder is sanctioned by law, a sheltered young girl searches for the cure to her own rare disease as well as information about her family's mysterious history. After being sucked into the haunting world of GeneCo, she is unable to turn back, as all of her questions will be answered at the wildly anticipated spectacular event:
The Genetic Opera
.
Enter here for your chance to win one of five copies of "Repo! The Genetic Opera" on DVD!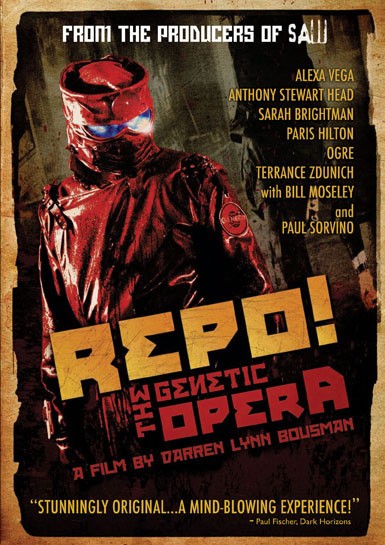 *
DVD Special Features
·Audio commentary with director Darren Lynn Bousman and actors Bill Moseley, Alexa Vega and Ogre
·Audio commentary with director Darren Lynn Bousman, co-creators Darren Smith and Terrance Zdunich and music producer Joseph Bishara
·"From Stage to Screen" featurette
·Theatrical trailer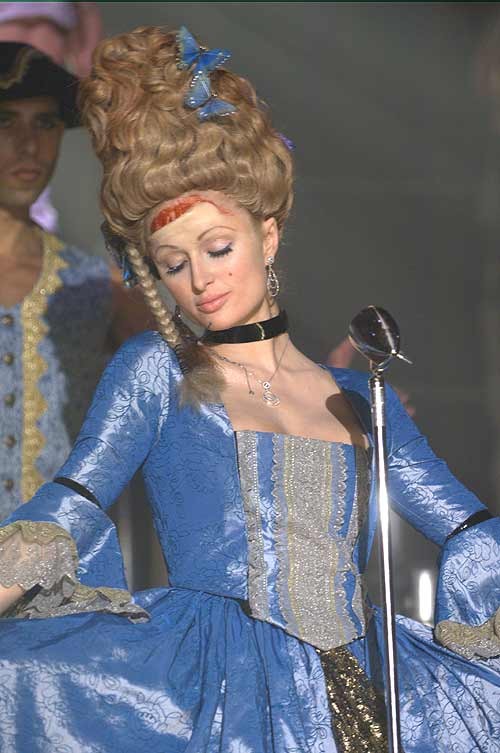 *
Blu-Ray Special Features
·Audio commentary with director Darren Lynn Bousman and actors Bill Moseley, Alexa Vega and Ogre
·Audio commentary with director Darren Lynn Bousman, co-creators Darren Smith and Terrance Zdunich and music producer Joseph Bishara
·Select scene audio commentary with Paris Hilton and director Darren Lynn Bousman
·Deleted scenes with audio commentary with Paris Hilton and director Darren Lynn Bousman
·Video Sing-a-longs
·"From Stage to Screen" featurette
·Webisode featurettes
-"Legal Assassin – A Repo Man on the Edge" featurette
-"Zydrate Anatomy – Amber Sweet: Addicted to the Knife" featurette
-"Chase the Morning – Blind Mag: The Voice of GeneCo" featurette
·Theatrical trailer
·"Legal Assassin – A Repo Man on the Edge" featurette
*
Special features subject to change
Official Site