Rep Says Justin Bieber Definitely Did Not Touch Fan's Breast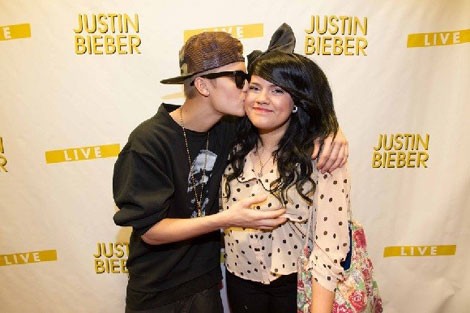 On Tuesday, a photo of Justin Bieber grabbing a female fan's breast went viral after she posted the snapshot on Twitter. Now a rep for the pop star has come forward to deny reports the singer touched her following the Miami, Florida, concert.
The teenager, named Jocelyn, wrote on Twitter: "NO I did NOT ask Justin to touch my boobs... He kissed me on the cheek in the picture & it looks like his hand is there."
Earlier she had written: "IM DYING HAHAHAHHAHA IT LOOKS LIKE JUSTIN'S TOUCHING MY BOOB IN THE PICTURE AHAHAHAHHA," and "People can think what they want but I know what really happened & Justin does too so everyone else's opinions don't matter to me."
 
A spokesperson for Bieber told EOnline.com, "It's ridiculous. That definitely did not happen."
The singer has been dealing with a lot of publicity problems recently. He split with girlfriend Selena Gomez at the end of 2012, and earlier this month he was photographed smoking what appeared to be marijuana in a California hotel room.
Meanwhile, the star's latest release, "Believe Acoustic," is expected to debut at number one on next week's Billboard chart. So a little publicity (good or bad) won't hurt.