'Ren And Stimpy' Creator To Sell Original Artwork On eBay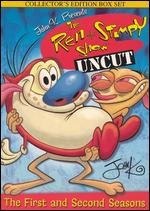 Jim Smith, co-creator of
The Ren and Stimpy Show
, has announced that he will be selling artwork from his personal collection on eBay. The artwork will consist of rare production art from the first season of "The Ren and Stimpy" Show, personal sketches and images from his upcoming cartoon "Chestaclese."
Some of the episodes featured will be "Space Madness," "Marooned," "The Boy Who Cried Rat" and many others.
"I love the artwork, but I'm using the money to fund my new project 'Chestaclese,'" says Jim Smith. "Animation production ain't cheap," he adds," It takes a lot of time and manly man power."
Asylum Press, who is hosting the auction, is the publisher of Jim Smith's two sketchbooks, "Deadly Are The Naked" and the recently released "Chestaclese Sketchbook No. 1."
"This is a rare opportunity to own artwork that has made TV history," explains publisher Frank Forte.
The artwork can be bid on at: http://search.ebay.com/_W0QQsassZasylumpress