Remote Control Battle: TV Both Men And Women May Enjoy Together

A Woman's Perspective:
Remember when sitcoms used to make jokes about how men and women watch television differently? The sloppy, somewhat aloof husband character would always be zooming through the channels, flicking the remote faster than his perky, pretty, younger wife could keep up. She'd then snatch the remote and pause on each channel achingly slowly, narrating not only what was occurring in the scene on screen but also what she hoped or thought would occur next.
Not only did men and women watch differently, though, what they watched was always assumed to be different. Men had their live sports coverage, and women stayed home during the day with their "stories," and as such, advertising, characters, and plots were all geared toward very specific audiences. But times they have been a-changin' for years-with the invention of new forms of television (hello, reality!) as well as technology that allows us to watch whatever whenever. Though
David Duchovny
's
Californication
character appears as a crude womanizer on paper, women still gravitate toward that show, tuning in week after week-whether they want to learn about his softer, more redeemable side, or whether they just want to see him get down and dirty. With the freedom to choose from such a wide variety of programming, women can no longer be forced into a box, telling them they should only-or will only-like a certain type of show or genre.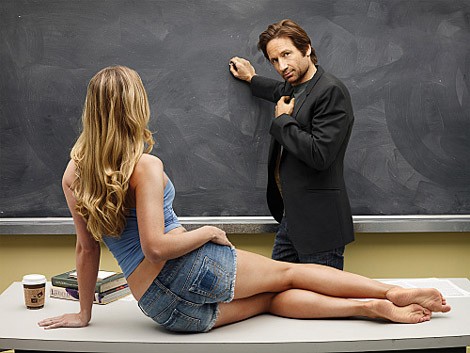 Image © CBS Broadcasting
The pitch for CBS'
Cold Case
(Sundays at ten p.m.) was centered on the only female detective in an elite section of Philadelphia's homicide branch of the police force. Kathryn Morris' title character was supposed to be somewhat of a Clarice Starling: a tough woman in her profession who was a bit more emotionally invested in her cases than the male cops by which she was surrounded. This has been a common trend for writers creating female characters living in male-dominated worlds because it is "easy" to rely on stereotypes of the sexes. However, the show itself is richer than any other formula cop drama because it often delves into period pieces (often dealing with important moments in women's history, like the female pilot of WWII), relying heavily on intricate details like production and costume design to enhance the story. And because the cases have all been "cold" for anywhere from two to sixty-two years, those stories are much more elaborate and interwoven, adding an extra psychological layer that is fun and interactive to try to dissect.
How I Met Your Mother
is a show created by men, centering on a male character, but which tells a (when on-track) sentimental and romantic story of a young man searching for the love of his life-the woman who will become the mother of his children. Though many plots revolve on bro codes, slap bets, and nights of drinking beer and hitting on/hooking up with random women, what underlies the weekly trends is a theme of deep relationships and a yearning to find the perfect place-with the perfect person-where you just feel at home. The comedy is also very smart and very real. The show may have seem geared more towards men when it first debuted, but the audience now is actually a good mix, and it is one of those rarer shows that a girl can watch with her boyfriend-or her brother-after a hard Monday at work (eight p.m.) and find they laugh in all the same places.
On one end of the reality television spectrum, NBC's
The Biggest Loser
, which airs on Tuesdays at eight p.m., is the feel-good family appointment viewing missing from today's DVR fueled world. This is a show that actually lifts up its viewers, having them root for the contestants to make some very real, very drastic, and very needed changes in their lives but also makes them feel like they, too, can do anything to which they set their minds. In two hours, we find ourselves laughing, cheering, and crying, and we come away from it inspired. It is the kind of show designed to tug at our heartstrings and motivate us to make exercise plans with our own girlfriends.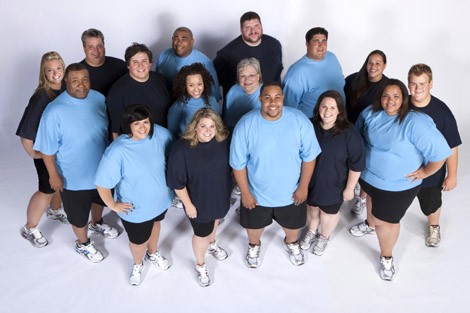 Image © NBC Universal, Inc.
It may be stereotypical to say guys don't enjoy musicals, but when polling my own male friends, five out of six said they don't (or perhaps just didn't want to admit that they) watch
Glee
. Yet, every one of my female friends turns into Fox on Wednesdays at nine p.m. to contribute to the steadily increasing ratings in the coveted 18-49 demographic. Glee capitalizes off the High School Musical craze but is funnier than it is campy due to the dead-on delivery from its ingénue cast. Starlet wannabe Rachel (
Lea Michele
) and diva in training Mercedes (
Amber Riley
) have pipes that should be threats to Mariah, Whitney, Celine, and Leona; and cheerleading coach Sue Sylvester (
Jane Lynch
)'s dry wit lends itself perfectly to one-liners that rival the
Chuck Norris
-isms of the late 90s. All should be every little girl's role model, but of course it has the eye-candy, too, in singing jocks Finn and Puck (Cory Monteith and Mark Salling) and geek chic teacher Will Schuester (Matthew Morrison).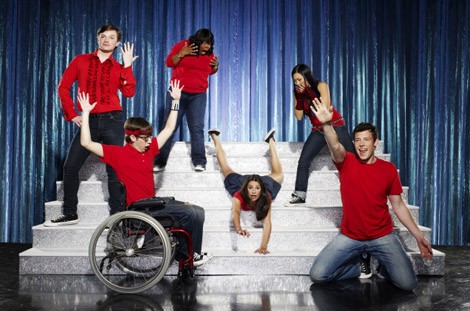 Image © Fox Broadcasting
Thursday nights bring us endless options in the ever growing
The Real Housewives
of… franchise on Bravo. Though The Real Housewives of Atlanta just ended it's second season, the fifth installment of The Real Housewives of the O.C. is starting up again without even a week's break between Atlanta's reunion show and The O.C.'s first episode. It is through this cycle that the casts all seem to be part of one larger show. No matter in what part of the country the current season airing is set, the women all have big hair and bigger jewelry and offer women in their cities, as well as others, the chance to ogle-and laugh at-- how the "other side" lives.
CLICK TO PAGE 2 FOR THE MEN'S PERSPECTIVE!
Story by
Danielle Turchiano
Starpulse contributing writer