Reliving 'The Sound of Music Live!' (Review)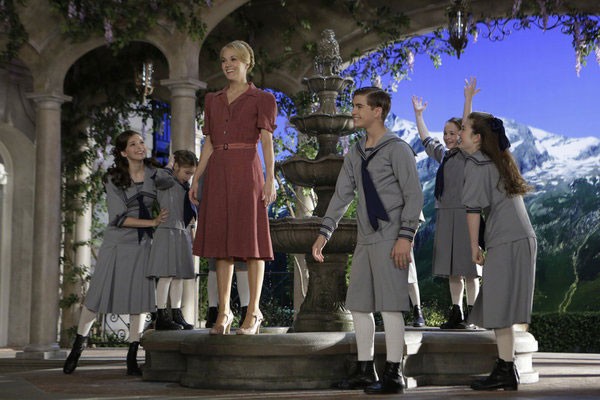 Although The Sound of Music is not my favorite musical of all time (or even in the top 20), I was beyond excited to see that NBC was reviving the live televised musical. If this was successful, other musicals would surely get adaptations. Of course, it's NBC so the likelihood of it being successful was not great. Plus, the casting was questionable. Carrie Underwood as Maria? The role doesn't really lend itself to a country twang. Stephen Moyer of all people as the handsome Captain Von Trapp? Lord no. But I'm willing to give it a chance, especially since some of my favorite Broadway voices are attached.
Here is my review and reaction as the musical was performed live!
"What you are about to see hasn't happened in 50 years…" I'm excited. Bring back the television musical for good!
Starts with Audra McDonald as Mother Abbess, who will very likely be the best part because she is Audra McDonald.
Maybe it wasn't the best idea to start straight away with nuns singing Latin.
Wow the forest set looks terrible. The close ups on plastic trees does it no favors.
NO at Carrie Underwood's hair.
Major nervous warbling is happening during the opening song. Hopefully she'll feel more comfortable as the night goes on, but so far it doesn't bode well for Underwood.
The Sound of Music: C
The live-ness of the show is awkward without applause or audience reactions. There's a reason dialogue is adapted from stage to screen.
Audra McDonald's voice continues to be flawless. The nuns are pretty good.
How Do You Solve A Problem Like Maria: A
"I was on my knees all night…" Maria, girl.
Carrie Underwood is trying to act. You can see her reading the lines in her memory.
Underwood's voice is much better suited for a song like Favorite Things. Her voice is pretty great.
For a second McDonald stood in front of Underwood on screen, taking her rightful place as the center of this musical.
"Feelin' sad"? NO
Favorite Things: A




"LEAVE??? NO, MOTHER! NO!!!!" This is some Anakin Skywalker level reaction here.
It's kind of screwed up for Mother Abbess to force Maria to work with children. That's a punishment worse than death.
I will not get used to Underwood singing "feelin'" instead of feeling, which sucks because there are approximately a million reprises of Favorite Things throughout this show.
This is the part where they try to convince us that Stephen Moyer doesn't look and sound like Frankenstein's monster.
Too much dialogue from the Von Trapp servants. They barely matter, so do were really need to hear their riffing about the navy.
"The poor didn't want this one." That's Maria's best line and Underwood just delivered it like she couldn't be more bored.
NO Moyer smacking that child's but with the book was less charming and more disgusting.
Every time there's dead air it's awkward as hell.