Relient K's Latest 'Forget And Not Slow Down' Is A Lot Of The Same

Relient K
- '
Forget and Not Slow Down
' (Mono Vs Stereo): This record is like a light, refreshing drink that is well put together. When you first take a sip, you're immediately satisfied, and each one gets better from there.
The more drink you have, the better it gets until you have so much that every drink feels the same. And much of the same goes for Relient-K's latest, 'Forget and Not Slow Down.' Upon first listen you'll realize that this record is surely a good one, one that's pretty well produced. It's full of good songs and fantastic melody, but the more you listen to it, the more you'll see that you've probably heard all of this before. This record luckily houses some saving graves like 'Therapy' and the album closer 'If You Want It,' where the boys channel a bit of
Mae
or
Jack's Mannequin
, but this record isn't the best thing these guys have ever released, but keep in mind Relient-K did just release a Christmas album, so how do you top that?
Grade: C+
Go Download: 'Therapy'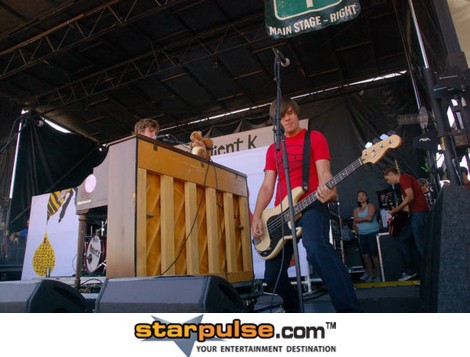 Image © Daniel Locke / PR Photos
Story by
Brian Campbell
Starpulse contributing writer