'Reign's' Jonathan Keltz Builds On His Standout Year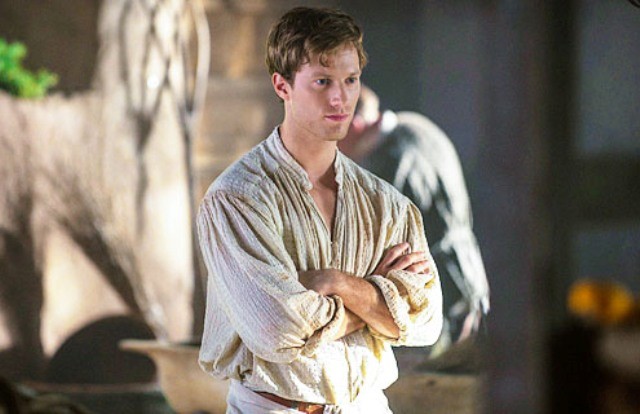 2013 was a pretty fantastic year for Jonathan Keltz. He had recurring roles on not one, not two, but three series: CBC's Republic of Doyle, USA's Necessary Roughness, and you now know him as Leith on The CW's freshman hit series Reign. BFTV recently joined Jonathan to talk about his great year, and how exactly one follows that up in 2014.
"I love doing multiple projects at once," he said. "You definitely want to be moving forward and build upon it. But I don't think there's any pressure. I do this because I love it, and I've been fortunate that I've been doing it for a long time, and I've been lucky with the jobs I've been able to be a part of."
In fact, if you've watched enough TV in either the United States or Canada, you've probably seen Jonathan somewhere. Aside from the three aforementioned recurring parts, he's appeared in episodes of TNT's Leverage, USA's Fairly Legal, CTV's Flashpoint, and Transporter: The Series. And all those gigs came after his fifteen episodes of HBO's Entourage, where he played the character of Jake Steinberg. He knows his way around the small screen on both sides of the border.
So what's on Jonathan's calendar for 2014? "Reign is pretty much the big thing. That's sort of the occupier of my time at the moment," he said. "The show just got renewed for a second season. Episode seven ["Left Behind"] is my favorite episode that I've gotten to be a part of so far."
"I'm really lucky that I knew I wanted to do this from a very young age. I got to start working at 16 and I've been working ever since," he continued. "I've been doing it professionally for 10 years; I've been studying for 15, 16 years. It's a part of who I am. It's such a joy to be in a profession that allows me to push myself and try to evolve and show different sides of myself. I get to live so many different lives through all of these characters."
Ten years is a long time in any line of work, but it's still just scratching the surface for Jonathan, who's got a whole career ahead of him. We asked him what type of resume he'd like to see when he looks back in a few decades. "I absolutely want to stretch myself as much as I can. I hope to be able to write and direct," said the actor. "I'm loving all the stuff I'm doing in  TV, but [I'm] definitely hoping to explore a bit more on the film front."
"Somebody who I think did it right is Paul Newman," Jonathan continued. "He wrote, he produced, he directed, he played character [parts] and leading men. And on top of that, [also] a lot of charity work."
But you don't get to be like Paul Newman without the work ethic to tackle all those opportunities, and Jonathan has that in spades. "Definitely the most important thing about this industry, about this career path, is passion and determination," he reflected. "I've been doing this professionally for 10 years, which means that I've probably gone on 3 to 4,000 auditions. And I'm fortunate that I've been a part of maybe 40 great projects. Those numbers are astounding."
Acting is certainly a tough business, but there's no doubt that Jonathan has gotten himself off to a wonderful start as a familiar face on our small screens. He's already proven that he can play everything from characters in historical dramas like Reign, to biting comedy in Entourage, and hard drama in Flashpoint. And that's just to name a few of the many roles he's already racked up. With range on his side, plus an obvious dedication to his craft, we have a feeling that Jonathan is on his way to many more good years.
Reign airs Thursdays at 9 PM ET/PT on The CW. For more on Jonathan, you can follow him on Twitter (@JonnyKanyon).
(c)2014 Brittany Frederick. Appears at Starpulse with permission. All rights reserved. No reproduction permitted. Visit my official website and follow me on Twitter at @tvbrittanyf.