Rehab On Tour Now; Will Join Kid Rock In Sept.

Georgia based group
Rehab
emerged on the scene in '07 with a powerful seasoning of southern rock flavorings that catapulted their underground single, "Bartender Song" into a cult hit. The track had become the decade's premier 'bar song', and caught the attention of chart topping arbiters of rock and hip hop cuisine like
Kid Rock
and
Uncle Kracker
to inquire about covering the smash tune.
Spurred on by the rabid fan reaction, Rehab decided to re-record the song and add it to their sophomore album,
Graffiti The World
, along with an arsenal of new country-fried works that fans have described as "upbeat hip hop that goes for the head and the jugular."
For Rehab,
Graffiti the World
is a band's bid to cover the world with special sounds, seeking the dark and light within, asking questions and perhaps, sometimes, finding the right answers. With help from A-list producers/mixers Billy Hume, (whose credits include the
Ying Yang Twins
,
David Banner
, and
Bone Crusher
), and Phil Tan (who has worked with the
Neptunes
,
Snoop
, and
Mariah Carey
), Rehab is poised to takeover '08 with their unique blend of funk, hip-hop, rock and country, and have a hell of a good time doing it.
This September, in what is to be the biggest party of the year, Rehab will be joining Kid Rock for a handful of dates. Before that, fans can catch Rehab on their "Graffiti the World" tour with fellow hip-hop rockers, Heavy Mojo.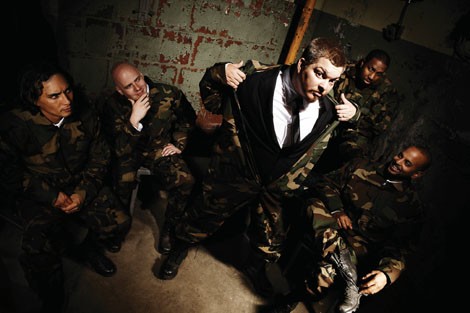 Dates with Heavy Mojo:
07/22 - The Bouquet - Boise, ID
07/23 - The Tonic Lounge - Reno, NV
07/25 - Domino Room - Bend, OR
07/26 - El Corazon - Seattle, WA
07/27 - Hawthorne theater - Portland, OR
07/28 - Knitting Factory - Spokane, WA
07/30 - The Boardwalk - Sacramento, CA
07/31 - Viper Room - Los Angeles, CA
08/01 - Stingers - San Bernardino, CA
08/02 - Brickhouse theater - Phoenix, AZ
08/03 - The Launchpad - Albuquerque, NM
08/05 - House of Blues - Las Vegas, NV
08/06 - Avalon theater - Salt Lake City, UT
08/07 - Belly Up - Aspen, CO
08/08 - Mesa theater - Grand Junction, CO
08/10 - Westfair Amphitheater - Council Bluffs, IA (w/
Flogging Molly
)
08/14 - Norva - Norfolk, VA
08/15 - Hooligans - Jacksonville, NC
08/16 - The Pit - Nagshead, NC
08/17 - 9:30 Club - Washington, DC
08/20 - Mercury Lounge - New York, NY
08/21 - The Haunt - Ithaca, NY
08/23 - Harpers Ferry - Boston, MA
08/26 - Lincoln theater - Raleigh, NC
08/27 - Amos Southend - Charlotte, NC
08/28 - Rock N Rodeo - Valdosta, GA
08/29 - Georgia theater - Athens, GA
Dates with Kid Rock:
9/10 - Western Washington Fair - Puyallup, WA
9/13 - Konocti Resort - Kelseyville, CA
9/16 - Rabobank Convention Center - Bakersfield, CA
9/19 - Event Center - Indio, CA
9/20 - The Pearl / Palms Casino - Las Vegas, NV
9/23 - AVA Casino - Tuscon, AZ w/ Kid Rock
9/25 - Gibson Amphitheater - Universal City, CA
9/27 - Aquarius Casino - Laughlin, NV
9/28 - Dodge Theater w- Phoenix, AZ
More Rehab:
-
Official Site
-
MySpace
-
Pictures
-
Ringtones
-
Discography/Reviews