Reginald VelJohnson Joins 'The Neighbors' For Thanksgiving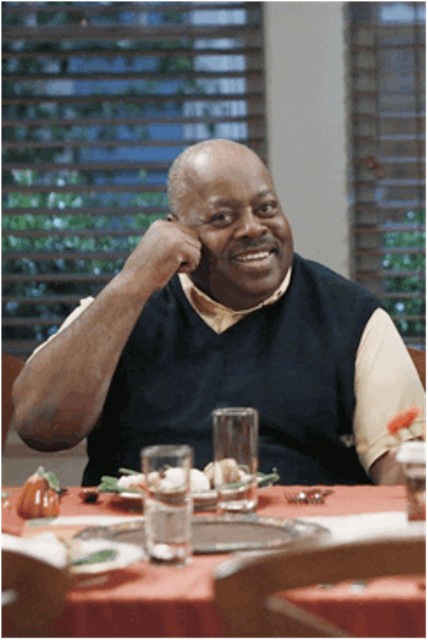 Tonight's episode of ABC's The Neighbors is chock full of comedic talent. Reginald VelJohnson, known and loved for his role as Carl Winslow on the Alphabet's Family Matters, guests as Jackie's father in a Thanksgiving story. BFTV spoke with Reginald on Thursday to ask him about the role, and being "that guy" that we remember from so many other things.
"It was a fun concept that they presented to me and I went with it," Reginald said. "I play the father of Jackie Joyner-Kersee on the show, and I had to interpret this alien being."
"The scenes that I had with Toks Olagundoye, who plays Jackie, the parent-child moments [are] kind of interesting, sweet and kind of poignant," he added, telling us that his on-screen daughter is "such a good actress."
Reginald isn't the only comedy veteran at The Neighbors' Thanksgiving table. His wife is played by Meredith Baxter of Family Ties and Dan Vs. fame, while Stacy Keach - who made us hurt ourselves laughing with his portrayal of Ken Titus in Titus - appears as Marty's (Lenny Venito) father. We asked Reginald what it was like to share the screen with Meredith and Stacy.
"I've always admired both of those actors, especially Stacy Keach. I was kind of intimidated a little bit, for a little while," he revealed. "But after sitting around when the camera wasn't rolling and talking to him, learning about his history, he's such an interesting and well-read person. I have a lot of respect for him. It was just a very nice to work with him.
"And Meredith, she's been around for a long time and she's such a classy lady," he continued. "I had a chance to play her husband and it was interesting getting to know her as my wife."
Even setting aside nine seasons of Family Matters, Reginald has made plenty of memorable appearances in television and film; he's also well known for playing the role of LAPD Sergeant Al Powell in the first two Die Hard movies, a part that he reprised in an episode of Chuck. Is it Carl or Al that gets him the most recognition?
"What always happens to me is that they recognize me from Family Matters, but they always add 'We really liked you in Die Hard,'" he told us. "People come up to me on many occasions and ask me what's inside of the Twinkie [from Die Hard], and I have to remember!" But he added that he never gets tired of being approached.
The Neighbors isn't the only place you can find the veteran actor on television. "I just recently did an episode of Real Husbands of Hollywood," he said, naming Kevin Hart's reality TV parody that airs on BET. "I'm not really associated with doing that type of programming. When I do that kind of stuff, people are surprised, and when they get a chance to see me in that, they get kind of excited." He's also had a recurring role on Hart of Dixie for the past three seasons as Dash DeWitt.
Since we're discussing a Thanksgiving-themed episode, we asked Reginald to share with us what he's thankful for, and he told us about a few folks who have inspired him. "There's so many. I can sit here and just run off names," he said. "But who immediately comes to mind are my grandparents. They started their own business on their own, and that was back in the late 40's and early 50's. They started their own cab company and became successful at it. They were always an inspiration to me."
What's his holiday wish this year? "I look at the world and I  see so much violence. I just hope that in 2014, we kind of get it together," he told us. "It's important to me that we love each other a bit more."
The Neighbors airs tonight at 8:30 PM ET/PT on ABC.
(c)2013 Brittany Frederick. Appears at Starpulse with permission. All rights reserved. No reproduction permitted. Visit my official website and follow me on Twitter at @tvbrittanyf.