Reggae Legend Desmond Dekker Dies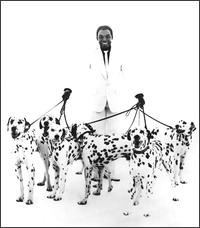 Reggae legend
Desmond Dekker
has died in his Surrey, England, home. He was 64.
The Jamaican singer collapsed after suffering a heart attack on Wednesday.
His manager Delroy Williams says, "It is such a shock. I don't think I will ever get over this.
"Desmond was the first legend, believe it or not. When he released Israelites nobody had heard of
Bob Marley
- he paved the way for all of them.
"He was at his peak fitness, he had this big tour coming up for this summer and he was looking forward to it - and then that was it.
"He died peacefully but it still hurts. I was his manager and his best friend. I don't think anyone knew how close we were - we go back so far."
Dekker last performed two weeks ago at Leeds University, England, and was due to sing at the Respect Festival in Prague, Czech Republic, on the second of June.
Born in 1942 in Jamaican capital Kingston, Dekker started working as a welder before turning to the music industry.
After launching to fame with hit single Israelites in 1969, Dekker moved to England and recorded You Can Get It If You Really Want, originally by Jimmy Cliff.
After his popularity waned in the late 1970s, the king of ska was declared bankrupt in 1984.
Two children from a former marriage survive him.