Reflecting With The Ladies Of 'In Plain Sight'
As USA's In Plain Sight comes to an end, I joined the cast members at the Paley Center for Media in Los Angeles to celebrate the series.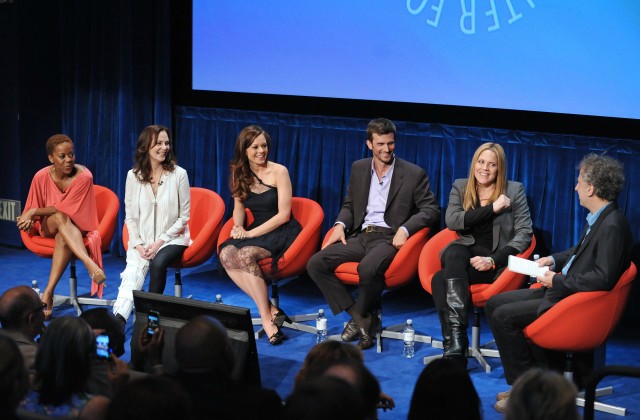 Before a panel discussion, stars Mary McCormack (U.S. Marshal Mary Shannon) and Rachel Boston (Det. Abigail Chaffee), as well as recurring actresses Tangie Ambrose (U.S. Marshal Delia Parmalee) and Ali Marsh (Dr. Shelley Finkel), joined me to talk about what they'll take away from being a part of the hit original series and their favorite memories.
"It's bittersweet," said McCormack, who was nominated for a Prism Award in 2009 for her performance as Mary Shannon - a role that she revealed was originally offered to Christina Applegate when the project that would become In Plain Sight was intended for the now-defunct UPN. "I feel very sad to say goodbye to this group of actors, and to our crew, and to this part, which is probably the best part I'll ever play."
"I love telling stories of very strong women, so it's been a real blessing to play Abigail Chaffee," said Boston, whose character got engaged to U.S. Marshal Marshall Mann (Frederick Weller) this season. "I was able to work with such extraordinary people that, really, every day, you're challenged and you grow as a person and an artist."
When asked for a moment in her tenure that she's particularly proud of, she dropped some details about the show's final episode: "There's a scene in the series finale that I think people will really appreciate where Abigail and Marshall have a really honest talk about their relationship and Mary, and what is going to have to happen if they continue forward. I thought it was a moment where she was incredibly and very bravely honest."
While Abigail and Marshall may be headed for wedded bliss, In Plain Sight fans know that Weller is married to Marsh, who portrayed shrink Dr. Finkel for nine episodes. "It was really fun, the trajectory of the character and the way she developed," she told me. "Having Fred in my office as my patient...that was just a trip!"
"It was quite a ride for us," she added. "We had two children over the course of the show. When I wasn't having babies, I got to be on the show, which was just a total joy. I was right there in the trenches with him. I'm sad that it's over."
That's a sentiment McCormack shared: "I've had two of my babies during this show. It's a big part of our life." As far as the finale, she said, "I never feel like I nailed anything, but in the finale, I have a walk-and-talk that's the longest I've ever done. I got it twice."
Ambrose's favorite moment was the entirety of the season's second episode, entitled "Four Marshals and a Baby," in which her character took center stage. "In that episode, I rocked a baby, I went off on somebody, I had a hostage situation, I had to handle Eric the Midget, I talked the girl down and I got my first compliment from Mary. That was my episode!" she said with a smile.
It was Boston who won the 'most interesting story of the night' award, as she shared a real-life experience that unknowingly helped her with the role of Abigail. "I was actually robbed in New Mexico two years before I started shooting this show," she told me. "They caught the guy that robbed me and I became really good friends with the Albuquerque Police Department. It was an amazing way to be introduced to this world."
For her, even being at the Paley event was personally significant. "I used to come to the museum before it was called the Paley Center, when I was nineteen, to watch old TV shows. To come here celebrating the run of In Plain Sight is really a beautiful full circle for me."
But there's no doubt that the center of the show is McCormack, who is not only its star but also a producer. She doesn't just play Mary Shannon, but her own fingerprints are all over the series. "I was really involved, maybe more than some people want me to be involved. I'm a control freak," she said with a laugh. "I was involved in scripts and in casting. I'd bang on any door. I love the show and I care about the quality. For me, it was a real honor that I was allowed to be involved."
In Plain Sight continues airing its final episodes tonight at 10 PM ET/PT. The series finale will air on May 4.
(c)2012 Brittany Frederick/Digital Airwaves. Appears at Starpulse with permission. All rights reserved. No reproduction permitted.