Reeva Steenkamp's Text Messages Reveal She Was Terrified Of Oscar Pistorius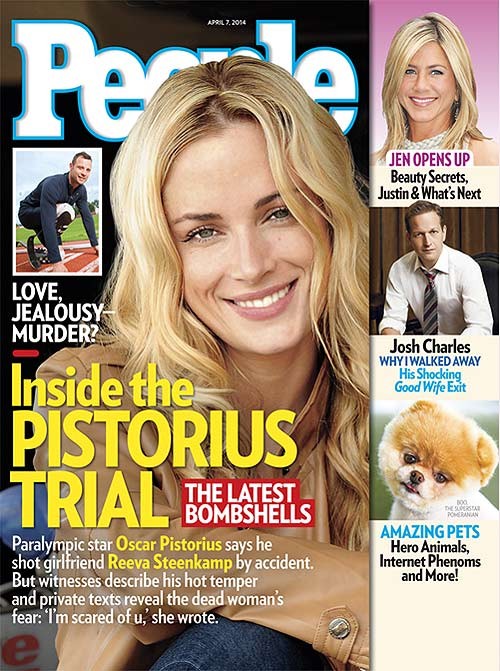 Love or rage? Paralympic star Oscar Pistorius, 27, says he shot his girlfriend, model Reeva Steenkamp, 29, by accident.
But witnesses describe his hot temper, and private texts reveal the dead woman's fear: "I'm scared of u sometimes and how u snap at me," she wrote less than three weeks before her death.
"I was not flirting with anyone today and I feel sick that u suggested that." Accusing him of "tantrums" and being "nasty," she ended one message, "I'm certainly very unhappy and sad."
This week's issue of PEOPLE examines South Africa's once-revered "Blade Runner" Pistorius, who is standing trial for the premeditated murder of Steenkamp.
"This is going to test him on every level," Pistorius' agent and longtime friend, Ray Wicksell, tells PEOPLE. "He believes people hate him."
Pistorius' older brother Carl and his younger sister Aimee are at the courtroom every day. Outside of court, Pistorius turns for comfort to a new girlfriend, Leah Skye Malan, 19, an emergency medical care student at the University of Johannesburg.

With his own $450,000 house up for sale to pay his legal costs, Pistorius is living in the Pretoria home of his uncle Arnold Pistorius, a wealthy real estate developer.
Rather than venture onto local tracks, Oscar works out in his uncle's home gym. "He's like a caged lion," says Wicksell. Before the trial, Wicksell recalls, a car pulled up to block his parking space in a lot, then a man got out and walked toward him.
"He had a full beard, a cap and sunglasses on," Wicksell says. "I didn't recognize him until he said, 'Ray, it's Oscar.'" As the men hugged, Wicksell asked if Pistorius was okay. "You know, not really," he answered. "Not too many people are supporting me right now."


*Also in this week's issue:*
Jennifer Aniston Opens Up To 'People' On Beauty Secrets, Justin And More
Amazing Animals 2014: Pets That Changed My Life