Reese Witherspoon 'Won't Press Charges' After Car Accident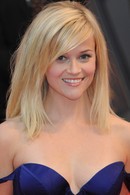 Reese Witherspoon has declined to press charges after she was caught up in a road accident on Wednesday.

The Legally Blonde star was jogging in California when she was allegedly struck by a car driven by an elderly woman.

Witherspoon sustained minor injuries, but she has no plans to pursue the matter any further, according to UsMagazine.com.

A source tells the website, "The incident is being treated as an accident. The driver was not given an alcohol test at the accident scene and typically she would receive a fine and a point on her driving license as it is considered a moving violation."