Reese Witherspoon: 'The Internet Is Just So Challenging As A Parent'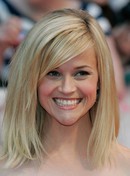 Actress Reese Witherspoon is "terrified" about her children using the internet, fearing they will be exposed to online predators.

The Walk the Line star admits she doesn't know how to protect 12-year-old Ava and seven-year-old Deacon, her children from her marriage to Ryan Phillippe, from social networking sites and inappropriate content on the web.

And Witherspoon is seeking guidance to help conquer her worries and be a proper parent in the digital age.

She tells Britain's Marie Claire magazine, "The internet is just so challenging as a parent. Your children are a click away from pornography and pedophilia, and it's just really upsetting. It feels like a siege. It really makes me upset. You really don't know who they are Skyping with or who they are on Facebook with, and I'm trying to stave all that off as long as I possibly can, but I know it's a reality. It's just inevitable."

"I wish I had some sort of forum for women dealing with this, because I have so many friends who don't know what to do. I just don't know how to parent in the digital age. I'm terrified of it. To think what my little girl will be exposed to."