Reel Big Fish's Aaron Barrett Hospitalized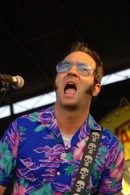 Ska stars Reel Big Fish have cancelled their set at a Florida festival after singer Aaron Barrett was hospitalized on Wednesday.

Barrett is resting after undergoing a procedure to remove an abscess which had developed following a previous operation in June. The band was due to appear at the 311 Pow Wow Festival in Live Oak on Friday, but they've pulled out of the gig to allow Barrett time to recover.

A statement from a representative reads, "Aaron Barrett and Reel Big Fish... will be forced to miss the 311 Pow Wow in Florida Friday August 5th - he is in the hospital resting. The frontman confirmed he will be spending the night in a medical facility after feeling unwell following his performance last night at the NorVA in Norfolk, Virginia."

"Aaron had a fever and discomfort and decided to go to the hospital to get it checked out, doctors are keeping him overnight for monitoring following a procedure for an abscess from complication from surgery in June from an acute appendectomy."

The singer is expected to make a full recovery in time for the group's gig in Fort Lauderdale, Florida on Saturday.