Reel Big Fish To Release New CD, 'Monkeys For Nothin' And The Chimps For Free,' July 10; Tour Starts July 3

There ain't no party like a
Reel Big Fish
party and the OC band is preparing to launch their annual madcap summer tour extravaganza with
Less Than Jake
,
Streetlight Manifesto
, and
Against All Authority
supporting.
Planning to preview songs from their upcoming
Monkeys For Nothin' And The Chimps For Free
release (due out July 10th on Rock Ridge Music) the new disc will feature 17 soon-to-be-classic Reel Big Fish songs. "It's everything you ever wanted, needed and never expected from Reel Big Fish," singer Aaron Barrett declares.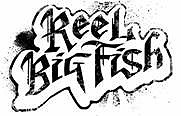 Emancipated from their major label hell, the boys in Reel Big Fish are excited to be making music on their terms and even more elated to take their new batch of uproarious songs directly to their fans.
Leave the 'tude at the door and prepare to shake your ass. Reel Big Fish is coming back to town, bee-yatch!
Reel Big Fish Tour Dates w/ Less Than Jake, Streetlight Manifesto, Against All Authority:
Tue 07/03/07 Kansas City, MO Uptown Theater
Wed 07/04/07 Milwaukee, WI Summerfest
Thu 07/05/07 Royal Oak, MI Royal Oak Music theater
Fri 07/06/07 Grand Rapids, MI The Intersection
Sat 07/07/07 Buffalo, NY Town Ballroom
Sun 07/08/07 Quebec City, QC Festival D'Ete
Tue 07/10/07 Clifton Park, NY Northern Lights
Wed 07/11/07 Providence, RI Lupo's Heartbreak Hotel
Thu 07/12/07 Hampton Beach, NH Hampton Beach Casino Ballroom
Fri 07/13/07 Philadelphia, PA Electric Factory
Sat 07/14/07 Baltimore, MD Rams Head Live!
Sun 07/15/07 Sayreville, NJ Starland Ballroom
Tue 07/17/07 Allentown, PA Crocodile Rock Cafe
Wed 07/18/07 Boston, MA Avalon
Thu 07/19/07 New York, NY Roseland Ballroom
Fri 07/20/07 Norfolk, VA The NorVa
Sat 07/21/07 Richmond, VA Toad's Place
Mon 07/23/07 Fort Lauderdale, FL Revolution
Tue 07/24/07 Saint Petersburg, FL Jannus Landing
Wed 07/25/07 Orlando, FL Hard Rock Cafe / Hard Rock Live
Fri 07/27/07 Houston, TX Meridian*
Sat 07/28/07 Corpus Christi, TX Concrete Street Amphitheater*
Sun 07/29/07 Dallas, TX Palladium Ballroom*
Tue 07/31/07 Anaheim, CA Grove Of Anaheim
Thu 08/02/07 Los Angeles, CA The Wiltern
Fri 08/03/07 San Diego, CA House Of Blues
Sat 08/04/07 Tempe, AZ The Marquee theater
Sun 08/05/07 Las Vegas, NV House Of Blues
Mon 08/06/07 Magna, UT The Great Saltair
Tue 08/07/07 Denver, CO Ogden theater
Thu 08/09/07 Tulsa, OK Cain's Ballroom
Fri 08/10/07 Saint Louis, MO The Pageant
Sat 08/11/07 Omaha, NE Sokol Auditorium / Underground
Sun 08/12/07 Sioux Falls, SD Ramkota
Tue 08/14/07 Maplewood, MN Myth
Wed 08/15/07 Chicago, IL Congress Theater
Thu 08/16/07 Cleveland, OH Agora theater
Fri 08/17/07 Cincinnati, OH Bogart's
Sat 08/18/07 Columbus, OH Newport Music Hall
Sun 08/19/07 Rochester, NY Water St. Music Hall / Club
*no Less Than Jake