Red-Hot Plain White T's To Guest-Star On Nickelodeon's 'iCarly,' Saturday, Dec. 1

Hey there, Miranda! More than a shout-out, it's a musical coup for Nickelodeon's convergent hit series
iCarly
, starring
Miranda Cosgrove
– and of course for character Carly Shay's web show within the show- when the pop-punk phenom
Plain White T's
("Hey There Delilah") guest-star as themselves and perform their new hit single, "Our Time Now," Saturday, December 1 (8 p.m. ET/PT).
The cutting edge TEENick series -- the first ever to infuse kid-created videos into a scripted comedy -- follows Cosgrove's Carly on and off webcam as she clicks with kids everywhere with her homegrown web show. "It's a really cool concept," said Plain White T's lead singer Tom Higgenson, whose own band's success was fueled by Internet exposure. Between takes on the
iCarly
set, he strummed and sang a few bars of "Hey There Delilah" with Cosgrove, who sings her series' theme song.
In the episode titled "iRue the Day" Carly (Cosgrove) and her web-casting cohorts Sam (Jennette McCurdy) and Freddie (Nathan Kress) rejoice after Carly's big brother Spencer (Jerry Trainor) books the red-hot band as payback for saving Higgenson's life. (A falling object at the mall could have toppled Tom!) But first, the three teens must foil rival Nevel's nefarious plot to hack
iCarly
, and they set out a la "Mission Impossible" to crash Nevelocity and clear the path to Plain White T's momentous performance on
iCarly
.
The two-pronged hit,
iCarly/iCarly.com
(sitcom/website) is tops with target demos. After debuting on September 8 as one of Nickelodeon's most watched live-action premieres ever, it has ranked consistently among TV's top five series with tweens and is the highest rated program on all of TV in its time period with kids 6-11 and 9-14.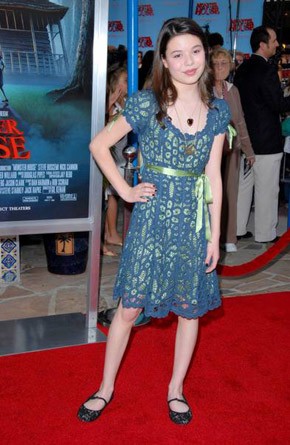 In addition, since the series from executive producer/creator Dan Schneider's Schneider's Bakery launched–- September 8, 2007, to November 3, 2007,-- more than 25,564 tweens and teens with crazy talents, inventions and skills have uploaded videos on the companion website,
www.iCarly.com
, perchance to appear on the sitcom and/or website; and 483,088 kids have registered on the site, which has received over 3 million visits since it went live in August. On
http://www.nick.com
, the
iCarly
page has produced 3 million visits since it went live in July, and there have been almost 8 million streams of
iCarly
content on TurboNick, Nickelodeon's broadband video player.
Plain White T's, whose acoustic song "Hey There Delilah" hit number-one on the Billboard Hot 100 in July 2007, has released three full-length albums:
Stop
(2002, Fearless Records),
All That We Needed
(2005, Fearless Records) and
Every Second Counts
(2006, Hollywood Records). Comprised of vocalist Higgenson, Dave Tirio and Tim Lopez on guitar, drummer De'Mar Hamilton and bassist Mike Retondo, the band from Chicago spent time on the 2005 Take Action tour, joining up with
Motion City Soundtrack
in 2006. The enhanced EP
Hey There Delilah
was released that spring with various versions of the titular ballad, four new songs and music videos. Plain White T's also hit the road on the Warped Tour, the Nintendo Fusion Tour and the (current) Young Wild Things Tour.
iCarly
takes the convergent entertainment experience for kids to a new level, and
iCarly.com
is both the series' show within the show and a real-life website featuring the series' stars in-character. Kids can go online to check out highlights of the latest webcasts from the series – plus additional footage not seen on-air -- as well as to read weekly character blogs, send e-mails, ask questions, post comments and submit videos showing their talents, weird skills, homemade animated shorts, participate in polls and more. Within the TV series when Carly and her sassy best bud/sidekick Sam appear on their web show --produced by techno-geek pal Freddie -- they ask for submissions and ideas. "If you wanna be on our show, e-mail us at
iCarly.com
and tell us why!"
Nickelodeon, in its 28th year, is the number-one entertainment brand for kids. It has built a diverse, global business by putting kids first in everything it does. The company includes television programming and production in the United States and around the world, plus consumer products, online, recreation, books, magazines and feature films. Nickelodeon's U.S. television network is seen in almost 94 million households and has been the number-one-rated basic cable network for 13 consecutive years. Nickelodeon and all related titles, characters and logos are trademarks of Viacom Inc. (NYSE: VIA, VIA.B).