Red Hot Chili Peppers Anthony Kiedis & Flea Surf In Rio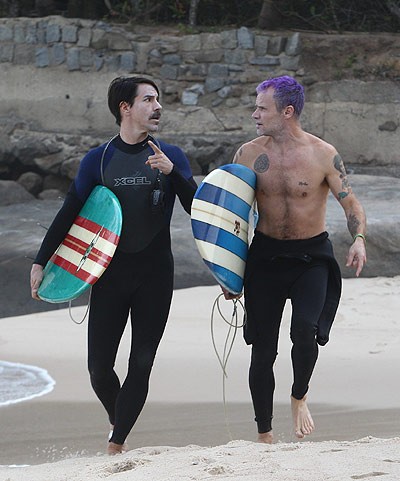 Red Hot Chili Peppers singer Anthony Kiedis, sporting his new 'stache & bassist Flea, with a new purple 'do, hung ten and caught some waves in Rio de Janiero's west zone of Prainha on Friday.

The Chilis are in town for the world's biggest music festival - Rock In Rio - and are promoting the release of their latest album, "I'm With You." The band's classic album, "Blood Sugar Sex Magik" turned 20 on Saturday.

This year marks the festival's return after 10 years and takes place in the 'City of Rock' venue at the future site of the planned Olympic Village when the 2016 Summer Games come to town.

100,000 people showed up for Friday night's opening show, headlined by Katy Perry, Rihanna and Elton John; and the festival expects to see over 600,000 more during the rest of its week-long run.

Rock In Rio first started in 1985, when 1.4 million people showed up to see the likes of Queen, Iron Maiden, AC/DC, Whitesnake, Yes, Scorpions, Rod Stewart and Ozzy Osbourne.

Friday night's show kicked off with a tribute to late Queen singer Freddie Mercury, who would have turned 65 three weeks ago. The band's performance of "Love Of My Life" from the inaugural 1985 festival was shown on the giant video screens.

Since the 1985 event there have been only two others - Rock In Rio II in 1991 and Rock In Rio III in 2001. Despite the decades between the last shows, this year promoters promised to hold the festival more frequently, with shows planned for 2013 and 2015 (since 2004 Spain and Portugal have each held their own Rock In Rio festivals).

Other artists performing this week include Metallica, Guns N' Roses, Slipknot, Lenny Kravitz, Stevie Wonder, Jamiroquai, Maroon 5 and the Chilis.