Red Hot + Blue: A Tribute To Cole Porter Re-release To Benefit AIDS Research & Relief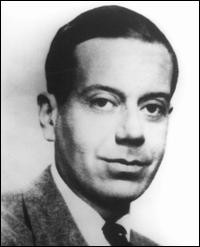 Red Hot + Blue: A Tribute To
Cole Porter
is an eclectic musical homage to the legendary songwriter benefiting AIDS research and relief. On April 25th Shout! Factory will release the videos from this successful benefit project on DVD for the first time, combined with a newly remastered CD in the same package.
Red Hot + Blue
brings together a diverse group of A-list artists including
U2
,
The Neville Brothers
,
Sinead O'Conner
,
Tom Waits
,
David Byrne
(who also directs one of the videos) and more to cover Cole Porter gems such as "I've Got You Under My Skin," "Too Darn Hot," "I Get A Kick Out Of You" and "In The Still Of The Night." Each artist brings their own unique, sometimes loose, interpretation to these unforgettable hits. As with the original release, all profits from sales will go to the
Red Hot organization
.
The
Red Hot + Blue
DVD, created by Leigh Blake and John Carlin, features artistic videos addressing the effect of AIDS on society from such acclaimed directors as
Jonathan Demme
(
The Manchurian Candidate
,
Silence of the Lambs
),
Wim Wenders
(
Buena Vista Social Club
,
U2: The Best of 1990-2000
),
Neil Jordan
(
The Crying Game
) and
Jim Jarmusch
(
Broken Flowers
,
Mystery Train
). As a bonus, the DVD includes a live performance by
Annie Lennox
with
Herbie Hancock
and
Ron Carter
of "Everytime We Say Goodbye" from the 1995 VH1 Honors Awards. Also presented on the DVD are interviews with
Roland Gift
,
Richard Gere
and
John Malkovich
culled from the 1991 Red Hot + Blue TV special.
Considered one of the first major AIDS benefits in the music industry, the original CD, released in 1990, sold over a million copies and spent 24 weeks on the Billboard charts. Sales of the album generated over three million dollars in revenue, which were donated to over 100 organizations helping to fight AIDS around the world.
DVD Track list:
1. Don't Fence Me In - David Byrne
2. I've Got You Under My Skin - Neneh Cherry
3. From This Moment On - Artist: Jimmy Somerville
4. After You, Who? -
Jody Watley
5. Begin The Beguine -
Salif Keita
6. Too Darn Hot -
Erasure
7. You Do Something To Me -
Sinead O'Connor
8. I Get A Kick Out Of You -
The Jungle Brothers
9. In The Still Of The Night - The Neville Brothers
10. So In Love -
k.d. lang
11. I Love Paris -
Les Negresses Vertes
12. Do I Love You? -
Aztec Camera
13. Well, Did You Evah! -
Debbie Harry
&
Iggy Pop
14. Down In The Depths -
Lisa Stansfield
15. Miss Otis Regrets / Just One Of Those Things -
Kirsty MacColl
&
The Pogues
16. It's All Right With Me -
Tom Waits
17. Night And Day - U2
18. Ev'ry Time We Say Goodbye - Annie Lennox
CD Track List:
1. I've Got You Under My Skin - Neneh Cherry
2. Night And Day - U2
3. You Do Something To Me - Sinead O'Connor
4. In The Still Of The Night - The Neville Brothers
5. Love For Sale -
Fine Young Cannibals
6. Don't Fence Me In - David Byrne
7. Well, Did You Evah! - Debbie Harry & Iggy Pop
8. Miss Otis Regrets / Just One Of Those Things - Kirsty MacColl & The Pogues
9. I Love Paris - Les Negresses Vertes
10. It's All Right With Me - Tom Waits
11. I Get A Kick Out Of You - The Jungle Brothers
12. From This Moment On -
Jimmy Somerville
13. Too Darn Hot - Erasure
14. Who Wants To Be A Millionaire? -
The Thompson Twins
15. Begin The Beguine - Salif Keita
16. Down In The Depths - Lisa Stansfield
17. After You, Who? - Jody Watley
18. Do I Love You? - Aztec Camera
19. So In Love - k.d. lang
20. Ev'ry Time We Say Goodbye - Annie Lennox