Record Label Producers Tried To Shut Down Blake Shelton's Twitter Account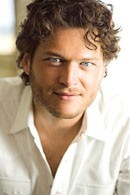 Blake Shelton's record label bosses threatened to shut down the singer's Twitter.com account because his messages were sometimes offensive and overly candid.

In May, The Who You Are When I'm Not Looking hit-maker landed himself in trouble after posting insensitive anti-gay remarks on his social networking site.

The country star has since raised eyebrows for taking to the site to recount his drunken nights, and he admits executives at his music label, Warner Bros., haven't been too happy with his online behavior and subsequently tried to prevent him from tweeting to keep him out of trouble.

He tells The New York Times, "There was a point where Warner Bros. was (sic), like, 'We've got to get Blake off Twitter, 'cause he can't say these type of things.'"

However, Shelton isn't worried about upsetting his fan base - he hopes people will remember him for being true and pushing the envelope.
He adds, "I hope that people learn from me, it's OK to be yourself. It's OK to offend somebody, and, as a matter of fact, please be polarizing. If you're not polarizing, you failed in my opinion. If you don't stand for something, how can anyone respect what you do?"