Record Industry And Artists Battle With the Digital Age

As Hollywood writers pool their efforts around a collective strike, The Los Angeles Times recently reported that online distribution and ad dollars are major negotiation selling points in the digital age.
"Everyone's pretty clear that the broadband networks and the Internet, if managed correctly, can be an additional source of revenue for their content," broadband video advertising network co-founder Jayant Kadambi told LA Times editorial board member Jon Healey.
Kadambi is the CEO of
Yume
(pronounced 'yu-me'), a broadband service that feeds commercials into video files. Familiar with those yammering,
Natasha Bedingfield
-fronted shampoo commercials on celebrity website TMZ? The vids will be become a dime a dozen if Kadambi has anything to say in the matter.
Of course, the most sterling example of cutting-edge Marketing Version 2.0 is
Radiohead's
groundbreaking
In Rainbows
album.
Released exclusively
online
, the album's pay-whatever-you-want business model, or "honesty box" sales as it came to be known, caused an uproar among industry brethren with
Trent Reznor
praising Radiohead's sheer invention and British ska singer
Lily Allen
sniffing to Rolling Stone, "It's arrogant of them to give away their music for free."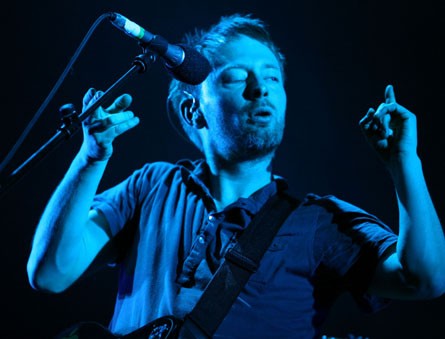 Coupled with news that
Madonna
is removing herself from the bonds of Warner Music to ink a $120 million deal with concert promoter Live Nation and Reznor himself is leaving his contract with Interscope Records to essentially become a free agent, the "honesty box" model is proving that artists are capable of sating the marketplace themselves, major labels be damned.
"A lot of managers are hoping the future will take us in the direction of Radiohead-where artists are more in total control of music," Peter Katsis of Los Angeles uber management company The Firm told Rolling Stone in a recent interview.
But whether Radiohead's sales for "In Rainbows" translates into an industry wide overhaul remains to be seen. Of the 1.2 million who downloaded "In Rainbows," only 38 percent actually paid for the album.
"This shows pretty conclusively that the majority of music consumers feel that digital recorded music should be free and is not worth paying for," online marketing guru Fred Wilson told the London Times following the "In Rainbows" release.
This reality might be a hard pill to swallow for The Big Four record labels, including Radiohead's former label, EMI.
Sources:
"Making Money from File-Sharing," Nov. 5. 2007, Los Angeles Times
"Superstar Acts Ditch Major Labels," Nov. 1. 2007, Rolling Stone
Story by
Joey Hood
Starpulse.com contributing writer