Recap:'90210' 'The Musical' Episode Five

At first glance, it looks like Ty and Annie are about to sleep together. She's uncomfortable and he's trying to reassure her that it's going to be fine. A few minutes later, we realize that it's all for show. The original star Adrianna hasn't been coming to rehearsals so Brenda has asked Annie to understudy the role. This has also given Ty and Annie more time to make out, just in time to be caught by her father. Annie's dad freaks out but her mom convinces him to let her talk to Annie. Annie's mom tries to convince her that she's confusing her character's feelings for her own, which she's done in the past. The best moment comes when they discuss the "emotional consequences" of having sex.
When Brenda tries to talk to Adrianna about the play, she has a meltdown about her entire life. Still, Brenda tries to work with her.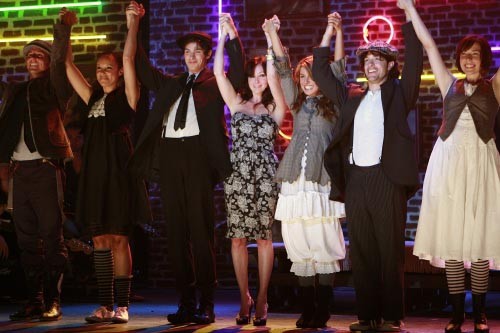 Silver tries to talk Annie into slowing down with Ty but Naomi tells her to go ahead. Naomi even uses a story about Ethan to sell Annie on the sex idea. Speaking of Naomi, her mother refuses to get out of bed until Naomi calls her dad to fix things. Her parents seemingly sleep together but her mother continues with her divorce plans. She'd rather have Naomi's respect than her cheating husband.
Before the play, Ty tells Annie he's booked a room. Adrianna's mother invites a bunch of Hollywood types to the play and reminds her daughter again how much they need to work. Adrianna takes one pill too many and Brenda has to replace her in the play with Annie. Adrianna's mom is so upset her daughter is no longer the star that she doesn't see how high her child is.
Annie asks her brother for the condom he's had in his wallet for the last four years. Dixon gives it to her and they agree to never speak of the moment again. I'm sure that Annie doesn't have that many people she can trust, but I think that asking Silver would make more sense. Annie bumps into Ethan a few minutes later. He hands her flowers and he sees the condom she dropped. Ethan tries to talk Annie out of sleeping with Ty. She says in a roundabout way that she's doing this to get back at him for dating Naomi again.
Adrianna watches the play and cries. To get even with Annie for stealing her part, Adrianna beats Annie to the hotel room. Adrianna tries to come onto to Ty then settles for telling Ty she saw Ethan and Annie go home together. When Annie knocks on the door Adrianna answers in a towel. Adrianna tells Annie that Ty told him to meet her there too. The trust is Ty already went home. Annie and Ty deserve each other, because they both believe Adrianna. Phones are used so much on this show so I can't understand why Annie and Ty don't think to call each other. Annie tries to go home but Ethan and Naomi stop her. She tries to explain that she can't treat sex as casually as the rest of their high school. They look like they secretly want to agree with what she's saying.
Dixon uses the play to get closer to Silver. Silver treats him like a personal assistant for days and they finally share a kiss. Just when it looks like they're going to hook up, Dixon realizes he doesn't have a condom anymore. Silver laughs at him and tells him it wasn't going to happen anyway. They keep kissing. Annie goes home to cry alone in her room. I would think those would be tears of relief because she didn't lose her virginity to Ty but I think she's more upset at herself for going to the hotel room at all.
What did you think of this week's episode? Leave a comment below!
Stay tuned to Starpulse.com for weekly 90210 recaps!
90210 Cast Pages:
Ryan Eggold
/
Shenae Grimes
/
Tristan Wilds
/
Jessica Stroup
/
Annalynne McCord
/
Dustin Milligan
/
Rob Estes
/
Lori Loughlin
/
Jennie Garth
Story by
Lauren Attaway
Starpulse contributing writer