Recap: 'The Office' Gets Promoted

On the Sept. 24 episode of "
The Office
," Michael calls Oscar (who is gay) into his office to ask how he should prepare for a colonoscopy. He asks if how he should prepare emotionally for the procedure and if there is anything he can do to make it more pleasurable for himself and his doctor and if he should have a safe word. Oscar just gets up and walks out of the office. And we don't blame him.
David Wallace arrives at the Scranton location from the corporate office in New York and asks to talk to Jim in private. They go into the conference room for a secret meeting. Michael pretends he is not jealous or worried about being left out of the secret meeting but in reality he's seething. He tries to get information out of Pam but she's not divulging even a tidbit. Besides she's too busy trying to stop people from the office from attending her wedding. She and Jim invited the entire office to be polite. They thought since it's going to be held in Niagara Falls no one would come but Michael gave everyone the Friday before and the Monday after their wedding the day off. So now they have the choice of either attending the wedding or working. What do you think they're going to do? Yes, they probably will lie about going to the wedding and take a long weekend then claim they were sick and couldn't make the drive and Michael will probably believe them. How did you know?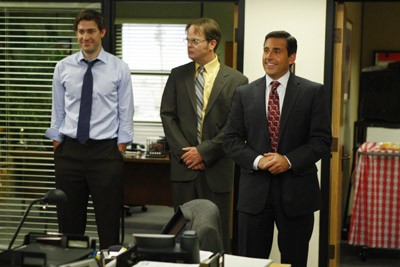 Darryl tries to make a claim on his worker's compensation insurance for his broken ankle. He claims that he was on a ladder, reaching for some paper on the top shelf, the next thing he knows he's on the ground and the ladder is on top of him. Dwight doesn't believe Darryl. He forces Toby to do some research in the warehouse. They try to re-enact the incident and they are unable to make Darryl's scenario make sense. They drive by Darryl's house and perform a stake-out, just like Richard Dreyfuss and Emilio Estevez. While they are watching Darryl's house they bond over train whistles. Dwight reveals that he is refurbishing an old train in his slaughterhouse. Toby comments that he'd love to see that. Dwight explains that it's just a typical slaughterhouse but he's welcome to take a look anyway. Then they see someone who they assume is Darryl carrying a fifty-pound bag of dog food into his house and not using crutches. This person is dressed in a green football jersey just as Darryl was earlier in the office while he was making his claim. Toby grabs his camera to document the evidence and screams out the car window that Darryl eats dog food and is a jerk. The person holding the dog food puts the bag down to reveal it's not Darryl. Darryl comes out of his front door on crutches. Dwight tries to make a get-away and instead runs over Darryl's garbage cans. Later Darryl threatens to file a harassment complaint against Dwight and Toby for yelling at his sister, who looks a lot like Darryl. Dwight finally figures out that Darryl was using the load lifter as an elevator and broke his ankle while jumping over the guardrail. Darryl confesses to Dwight being right but files a complaint against him anyway. That's okay because Dwight files a counter complaint against Darryl and Toby gets to file all the paperwork. As Toby says, they worked it out and came to an agreement.
Meanwhile Michael tries to sneak himself into the secret meeting by hiding under a cart that he has Andy wheel into the conference room. He also sets up an assortment of cheese they found in the breakroom to make it plausible for a cart to be wheeled into the room. After Andy sets up the cart and explains all the sad cheeses on it the meeting is over and David is looking for Michael. Michael has to push himself out of the conference room with one leg and wiggle his way out of the cart without anyone seeing him. He suddenly appears in back of David. David asks to speak with Michael privately in his office. Since Michael assumes that Jim is trying to take his job and get him fired he says that Jim is not ready to manage the office. He describes Jim as Big Bird and says he'd rather put Bert in charge. Then Michael shows David the personal review file on Jim in which it is noted by Toby that Jim has a tendency to pull practical jokes and generally disrupt the office. David is very disappointed. Jim had suggested, and David had agreed that the workload was becoming overwhelming since Dunder Mifflin closed another branch. Jim's solution was to promote Michael to regional manager and promote himself to office manager. But since Michael ruined that then the deal was off. Jim is hurt and angry. Michael tries to make it right after David leaves by calling him and helping David get a ticket for driving and talking on a cell-phone. David calls back later and suggests that Michael and Jim become co-managers in order to get Jim ready to manage solo and handle the added workload. Michael is not entirely happy about the weird demotion but he wants desperately to keep Jim's friendship and keep Jim, Pam and the baby near him so he agrees. Jim and Pam are of course, thrilled.
Pam had a heck of a time trying to get RSVPs from her co-workers. Kelly would only go if Ryan was going. Ryan was a maybe. And Meredith refused to mail the RSVP and check which meal she wanted. Instead she tells Pam she'll eat whatever is fanciest unless there's ribs and to just text her the day of the wedding for directions. Pam is floored. After Meredith leaves the lunchroom Angela says, "Rude." Pam breaks down a little and agrees then recaps all of the rude and bizarre responses she's been getting for her co-workers. Angela clarifies saying her purse was on the table and Pam moved it without permission. Oops. We should have known she didn't care.
Did we forget to mention that Dwight did not take the news of Jim's promotion well? Okay, so Dwight did not take the news of Jim's promotion well. He basically screamed to camera in the conference room. We're assuming he's angry and appalled. Then again that's his usual state of being so it's hard to tell.
The Office stars:
Steve Carell
/
John Krasinski
/
Jenna Fischer
/
Rainn Wilson
/
B.J. Novak
/
Melora Hardin
/
Mindy Kaling
/
Brian Baumgartner
/
Leslie David Baker
/
Kate Flannery
/
Ed Helms
/
Angela Kinsey
/
Phyllis Smith
Image © NBC Photo: Trae Patton
Story by
Erin MacMillan-Ramirez
Starpulse contributing writer