Recap: 'The Amazing Race' All-Stars, Episode 4 - 'Smarter, Not Harder'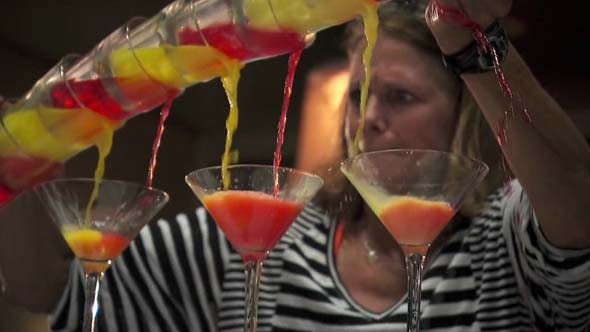 Teams start out the fourth Leg of the Race by first heading to the longhouse at Prince Philip Park where they immediately find the Road Block.

For this Road Block, teams will take part in a traditional Marut cultural competition where they will jump on a bamboo trampoline known as a Lansaran to grab the flag above them adjusted to their height.
Cord starts the Road Block first, but struggles allowing Connor and Leo to pass him and Jet. It takes Cord 47 attempts. Luke and Big Easy are next and don't have as much trouble.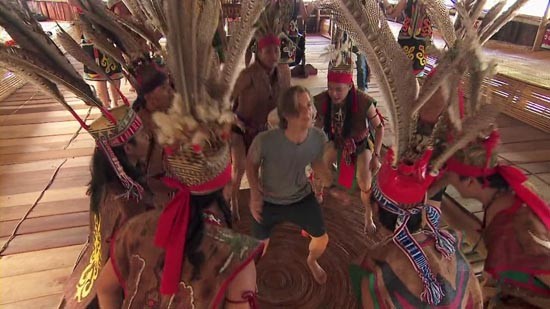 Caroline is up and she has trouble trying to get the rhythm. Jessica decides to do the Road Block, but gets her feet bloodied up in the process.
Brendon & Rachel leave the Pit Stop in last and when they get to the Road Block, Rachel decides to do it. She slips up at first thanks to her pantyhose. But once she takes them off, she easily grabs the flag.
The teams are at Kota Kanabalu International Airport where they've bought tickets on one of three provided flights to Kuala Lumpur. On the first flight are Dave & Connor, Leo & Jamal and Jet & Cord. On the second flight, scheduled to depart an hour and a half later, are Margie & Luke and Flight Time & Big Easy. And on the last flight, leaving 45 minutes after the second, are Brendon & Rachel, Caroline & Jen and Jessica & John.
After the first flight leaves, the remaining teams find out the second flight is delayed 50 minutes. So now the two flights will be departing within minutes of each other.
It's 9:42pm and the first flight arrives in Kuala Lumpur. Teams must make their way to an intersection at Jalan Ampang and Jalan Yap Kwan Seng near the Petronas Towers for their next clue.
Leo & Jamal arrive at the cluebox first and open up the Detour.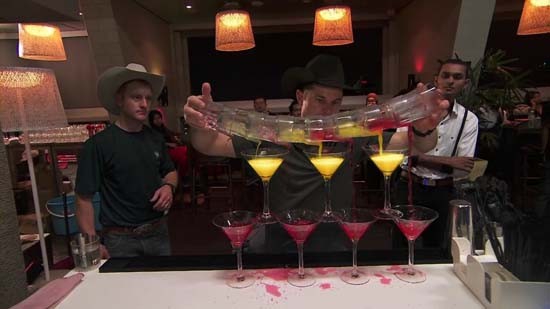 For this Detour, teams will head to the Sky Bar at Traders Hotel.  In Mix Master, teams will learn how to scratch. When they're ready they will go to a DJ performance booth and must each repeat seven different tracks using the turntable. If they can correctly follow the beats, they'll get the next clue.  In Master Mix, teams must mix seven drinks, four red and three yellow, and pour them simultaneously into a pyramid of glasses without mixing the colors. After delivering a tray of cocktails, they'll get the next clue.
All three teams choose Master Mix, but they find it isn't as easy as it seems.
The 2nd and 3rd flight arrive at 10:58pm and 10:59pm. Margie & Luke and the Globetrotters decide to share a van, as do Brendon & Rachel and Jessica & John. Caroline & Jennifer take their chances and find an available taxi outside.
Back at the Sky Bar, Leo & Jamal decide to switch Detours after Jet & Cord manage to finally, cleanly fill their glasses. As the last five teams arrive, Dave & Connor get their glasses filled and they try and catch up to the Cowboys who are on their way to the Pit Stop at the Batu Caves.
Leo & Jamal are shocked when Caroline & Jennifer, Jessica & John, and Flight Time & Big Easy join them in the DJ practice room. Brendon & Rachel and Margie & Luke decide to do the drinks.
Flight Time & Big Easy try the DJ performance first, but fail on the first verse. Leo & Jamal try and they get it. They head to the Pit Stop. But it's the Cowboys who win their second Leg of the Race and a trip to London. Dave & Connor finish 2nd and Leo & Jamal have to settle for 3rd.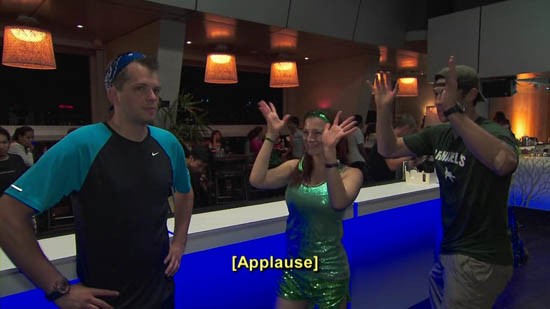 Caroline & Jen, Jessica & John and Flight Time & Big Easy get their beats down and step on the Mat as Teams #4, #5 and #6 respectively.
That leaves Margie & Luke and Brendon & Rachel fighting for last as they struggle with the drinks. The frustration gets to Luke who smashes the glasses on the floor before going to the bathroom to cry.
Margie tries to calm Luke down and tells him to clean up his mess. Brendon & Rachel try to encourage Luke as well and they cheer for him.
Luke suggests they take the penalty together. But Rachel says no, they can do this. They have to do this and Race it out. Margie says she thought Rachel was the biggest crybaby ever, but she was really there for her and Luke tonight.
Rachel's encouragement helps Luke finally settle down and he and Margie finally finish the Detour. They hurry off to the Pit Stop where Phil officially checks them in as Team #7.
Brendon is just about ready to quit, but Rachel says nope. They can't give up. They have to keep going. She takes Brendon's hands and says a prayer asking for strength. They push through and complete the Detour, 3 hours and 12 minutes after they started.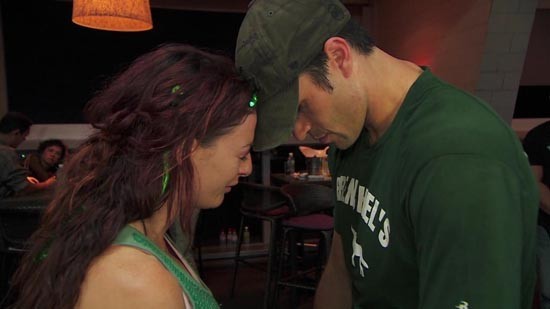 They head to the Pit Stop and run to Phil who tells them they are the last team to arrive. But he doesn't waste any time in telling them this is a non-elimination leg and that they will have to complete a Speed Bump on the next Leg.