Recap: 'The Amazing Race' All-Stars, Episode 11 - 'No, Please God, Please Don't Say That That's Not right!'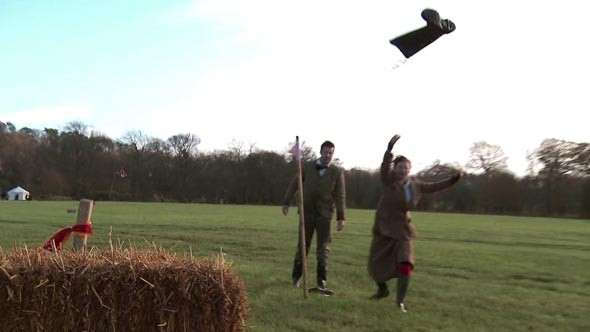 The penultimate Leg begins as teams take a train to Madrid to catch a plane to London, England. 
Once in London, teams hop into brand new Ford Focuses and must drive themselves to Anfield Stadium in Liverpool.  While Dave & Connor and Brendon & Rachel leave Heathrow first, they get stuck in traffic allowing Leo & Jamal to arrive at the stadium first.
At Anfield Stadium, teams will put on a soccer uniform and head onto the field to each make two penalty kicks against professional goalkeepers.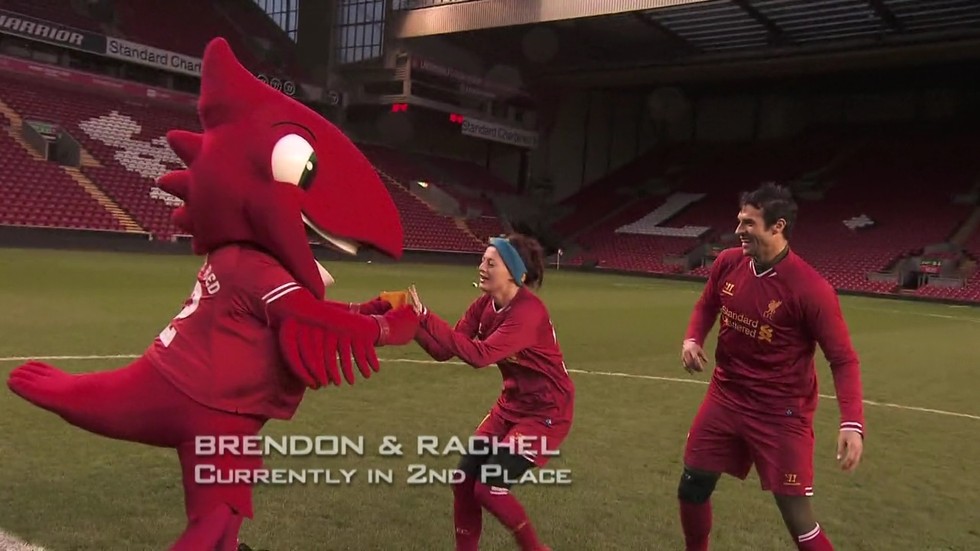 Leo & Jamal are loving it, being soccer fans themselves.  And they manage to score their four goals just as Caroline & Jen and Brendon & Rachel arrive at the stadium. 
Caroline & Jen get started first, but struggle to even kick the ball.  That allows Brendon & Rachel to come in and quickly get their balls into the net. 
Dave & Connor come in just as Brendon & Rachel leave.  Caroline & Jen think their goalkeeper is "mean," but they finish next with Dave & Connor in last place.
After playing soccer, teams must drive to Pontcysyllte Aqueduct for their next clue.  Leo & Jamal are lost, so they stop at a gas station to ask the locals for directions.  Brendon & Rachel catch up at the same gas station, but go straight inside and get the info they need.  They say hi to the Afghanimals before leaving and Leo & Jamal decide to follow.
But Brendon catches on and does some stealthy moves that make Leo & Jamal take the exit instead of staying on the highway.  Now Leo & Jamal are lost.
Caroline & Jennifer and Brendon & Rachel arrive at the Aqueduct together and they find the Road Block.
In this Road Block, teams will hop in a canal boat and work with an instructor to learn a Welsh poem, "Y Sipsi!," during the 15 minutes it takes to cross the aqueduct.  When they get to the other side, they must perform the verse to the Welsh linguist who will give them their next clue.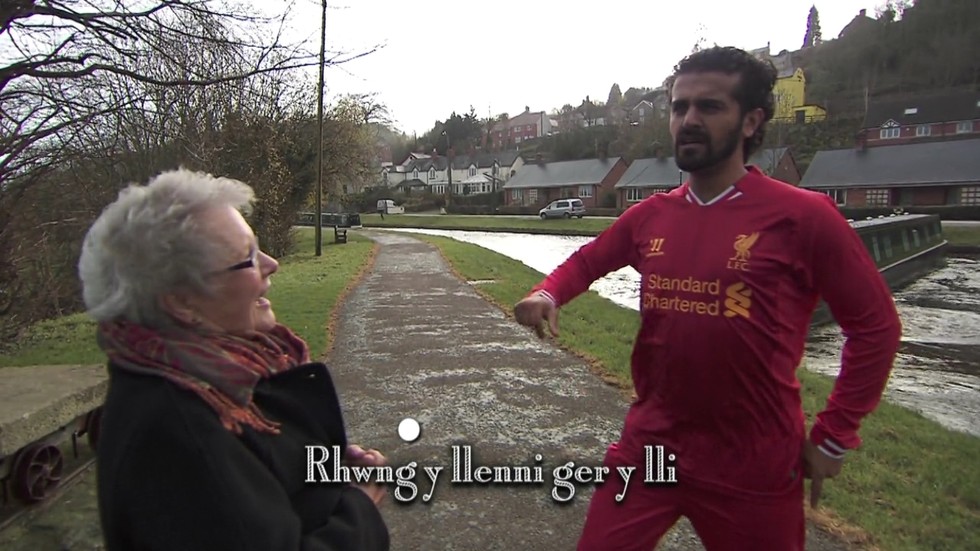 Brendon runs ahead of Caroline and gets in the first boat.  Meanwhile, Leo & Jamal and David & Connor arrive close together next.  Jamal and Connor decide to do the Road Block.
While their teammates are cramming in the boats, Rachel, Jen, Dave and Jennifer enjoy their time together watching rainbows.
Brendon, Caroline, Jamal and Connor each give it a try with the nice Welsh lady, but they all get the thumbs down.
Brendon gives it another try and the nice Welsh linguist happily gives him the next clue.  Caroline is close behind in 2nd.  But both Jamal and Connor fail their 2nd attempts. 
Jamal gets it on his 5th attempt.  That leaves Connor in last and he finally gets it on his 4th attempt. 
Teams must now head to Bolesworth Estate for their next clue. Brendon & Rachel stay in the lead when they get to the estate where they find the Detour.
For this Detour, teams will dress up in traditional English garb.  In Shoot It, teams must shoot down 16 clay pigeons with a 12 gauge shotgun.  In Boot It, teams must search through a pile of Wellingtons to find a pair of either size 9 or 11 boots.  Filling them with water, they must go to the starting line and continue to throw their Wellies along a course until they cross the finish line.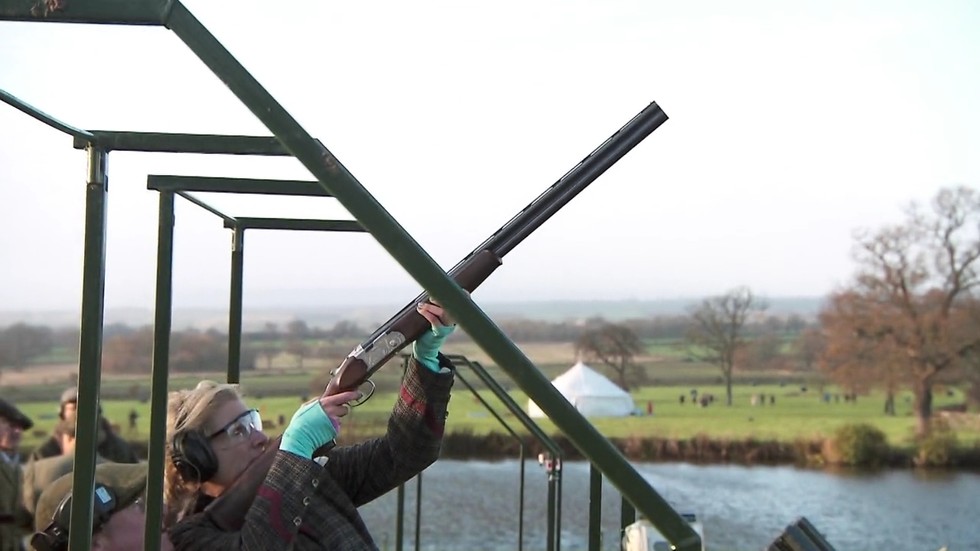 Since it is so windy, Brendon & Rachel decide to choose Boot It.  They are excited to play games with the Downton Abbeyers.  They search through the Wellingtons, but Rachel takes two size 10 boots instead of 9 or 11.  They head to the starting line, not knowing their mistake, and get started.
Caroline & Jennifer and Dave & Connor arrive and they both choose Shoot It, while Leo & Jamal are lost.
Caroline & Jennifer use their John Wayne and Daniel Boone ancestry to finish the Detour and get the next clue pointing them to the Pit Stop at Peckforton Castle.  Dave & Connor are close behind and both teams each go a different way.
Leo & Jamal arrive at the castle and decide on Shoot It.  They see another team is doing the Detour.
Brendon & Rachel get to the finish line, but the Wellie judge says they have to do it again.  They cannot believe it.  Brendon checks the clue and they realize their mistake.  Rachel is beside herself.
The Downton Abbeyers continue cheering them on as Brendon tells Rachel to stop crying and to focus. 
Dave & Connor end up going the right way and arrive at the Pit Stop in first and win a trip to Fiji.  Caroline & Jen take 2nd.
Brendon & Rachel finally finish the Detour correctly and the locals cheer them on as they hurry back to the Ford Focuses.  They get on the Mat and are relieved when Phil tells them they are Team #3.
That leaves Leo & Jamal in last and eliminated, in 4th place, again.