Recap: 'The Amazing Race' All-Stars, Episode 1 - 'That Was Dumb'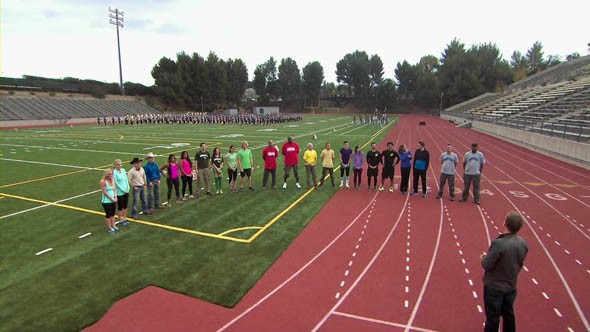 The UCLA Bruin Marching Band plays a rousing rendition of the TAR theme as Phil introduces us to the 11 teams he, Bertram van Munster and Co. and some CBS meddlers think are worthy to be called All-Stars.
The so-called "All-Stars" are:
Jet & Cord, the annoying, self-righteous, homophobic cowboy brothers from TAR16 and TAR18.  Caroline & Jennifer, the country singers and Bates & Anthony tag-a-longs from TAR22.  Natalie & Nadiya, the Sri Lankan Twinnies from TAR21.  Brendon & Rachel, married and would-be winners had it not been for their HUGE blunder in TAR20.  Jessica & John, Oy vey! The dumbest Racers to ever run TAR, getting eliminated with an Express Pass in their pocket from TAR22.  Flight Time & Big Easy, the Globetrotters from TAR15 and TAR18 who love to quit the Race and pee on foreign national monuments.  Dave & Connor, father and son from TAR22 who had to quit after Dave ruptured his Achilles.  Joey & Meghan, ANOTHER team from TAR22. This time, the annoying YouTubers. More Joey than Meghan though.  Leo & Jamal, not-Tim & Marie, the Afghanimals from TAR23.  Margie & Luke, aka Luke & Bob from TAR14 and TAR18. We are reminded it was Luke's fault that they lost both times.  Bopper & Mark, the Kentucky boys from TAR20.
The teams run along the track to meet Phil who says he has an important announcement. One of the Racers had to meet the Race doctor last night.
Flashback to Cedars-Sinai Medical Center. A doctor is examining Bopper who says he had a pancreas attack the day before they left to come here. Phil joins them and says the doctor doesn't think he is healthy enough to Race. He has an inflamed pancreas and he could die.
They are devastated. But Phil says there is good news. They can find a new partner for Mark to Race with. He can still get the opportunity to win the million dollars. Bopper gives Mark his blessing to Race.
Back to the present. Phil finishes his announcement. Mark and Rachel are in tears.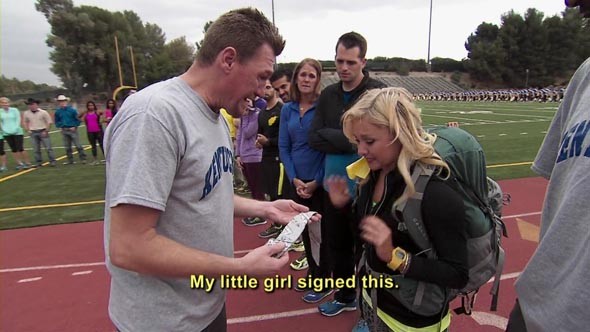 Phil points up to the stands where Bopper's replacement appears. It's Mallory! Still Team Kentucky!
Bopper gives Mallory a bandana signed by his daughter and asks her to wear it. Brendon & Rachel run to hug their friend Bopper before he leaves the Starting Line.
It's time to really start the Race. Phil says they'll be heading to China and the two Express Passes are up for grabs this Leg.
Their first destination is Guangzhou. To get one of the four tickets on the first flight, teams must find band members with "Guangzhou" printed in Cantonese on them using the examples on two band members on top of platforms.
Once they get their first clues, they'll hop into a brand new Ford Fusion Energi to drive to LAX where they must plug them in before leaving them.
"The world is waiting for you… again. Good luck, travel safe… GO!"