Recap: So 'Dexter's' Gonna Be A Daddy

On last night's episode of "
Dexter
", the title character and his girlfriend dealt with her newfound pregnancy. This saw Dexter in a fantastical haze for much of the episode as he imagined how his child might turn out and pondered Harry's thoughts on the subject. It wasn't just Dexter who was facing daddy issues; however, the paternal instinct permeated the rest of the installment as well.
The most intriguing portion of this is the developing relationship between Dexter and
Jimmy Smits
' Miguel Prado. The Assistant DA took an instant shine to the serial killer, perhaps detecting a similar visceral style for good. The episode explored this further as we learn of false convictions obtained by Prado and ultimately his stalking into FreBo's house to kill the man he thought did in his brother.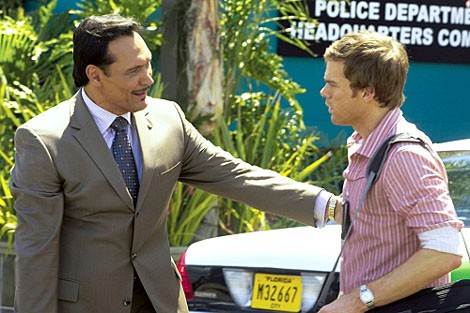 While on this mission, he literally caught Dexter red-handed as he'd been beaten to the punch, or stabbed in this case. Dexter quickly covered it up as being an act of self-defense, but it seemed as though Prado saw through this and was even more grateful to Dexter for doing what he didn't think he could do. Dexter may have finally found a kindred spirit after feeling so lost following after murdering his serial killer brother.
Dexter's sister was also struggling with daddy issues in this episode. Continuing her obsessive hunt to make detective, Debra trolled Miami's underbelly catching up with her old contacts from the vice squad despite the fact that an internal affairs investigator continues to offer an easy path to detective simply for keeping an eye on Detective Quinn. Debra is told it's what her father would have done, forcing her to choose between her loyalty to her friends and duty to her dad.
Of course, the biggest fatherly issues in this episode were Rita and Dexter's dealing with her pregnancy. Pros and Cons were weighed, including a few only known to Dexter, and ultimately Rita decided it would be a bad idea. Despite this, she'll keep the child and Dexter is left to decide what role he'd like to have in its life. Of course this decision must come in the face of his appetite for blood that found Dexter traipsing through a sorority and choking naked drug dealers in their kitchen. Of course, self-preservation was of concern in this instance, but he still seemed lifeless while trying to save his own. It wasn't until he took the first drop of blood from FreeBo that Dexter really seemed to come to life.
The series also came to life in a way it hasn't up to this point. The addition of Smits and Dexter's newfound fatherly relationship holds the promise of taking this series into the depths of Dexter it has yet to explore, and it doesn't seem like the show will sacrifice any of its humor or thrills in becoming more psychological.
Bloody good fun indeed.
Story by
Andrew Payne
Starpulse contributing writer