Recap: 'How I Met Your Mother' Visits 'Gary Blauman' One Last Time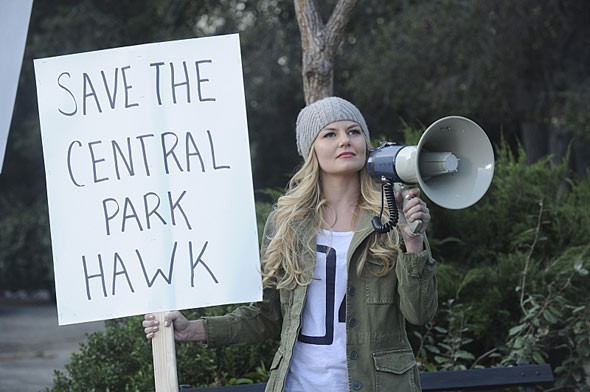 The first two acts show each character's personal experience with Blauman, framed by a story Ted told The Mother on their first date that rapidly ended after she saw the man she rejected in "How Your Mother Met Me." Each Blauman vignette is different. I enjoyed Ted's Teddy Roosevelt stand-off with him, and I enjoyed William Zabka's reaction to Blauman's acknowledgement of him as poet. The other stories allowed typically silly. The restraint in Barney's storyline to not make Blauman eat the entire fry bowl was admirable for this show. The highlight of each story was Taran Killiam, SNL's treasure. Killam's has a distinct presence on screen—his roles vary from off-putting nice guy to actual nice guy who's unintentionally off-putting. Gary Baulman combines both.

The two act breaks and the ending coincide with Ted's date with his future wife. He stops telling her the story, right before the story's conclusion, because she's outside her apartment building. He stops telling the story in the first act because she sees her ex. And the story finishes once she decides to continue walking with Ted around New York City. The Mother doesn't want to end the date before Ted finishes the story. Their date could be read as The Mother not wanting to end things before they have a story. Ted doesn't want to miss his chance; by not acting, he gets the girl. The conclusion of Gary Blauman involves apologies and good feelings followed by pangs of sadness by the truth that people you care for get lost in ever-changing tides of day-to-day life. We lose touch and can't seem to bother re-connecting. The gang stands outside and reflects on that, unsure about what'll happen after their story ends.

The various supporting characters all ended up in fine places in their lives. Zoey continued protesting but was attacked by what she wanted to protect, because the writers caved to fan hate for the character even though Zoey was great; Patrice had a radio career; Rajit had his own chauffeur; and so on. I think many fans will appreciate the various endings for those supporting characters. It would've been more fitting with what's expressed at episode's end to not track various supporting characters. Those characters should've moved on without any of us knowing where they ended up. That's life. I understand, though the writers' caving to sentimental impulses, to say goodbye to its show in various ways until it fades out for the final time. That's also life.