Recap: 'How I Met Your Mother' Mixes It Up With 'Bedtime Stories'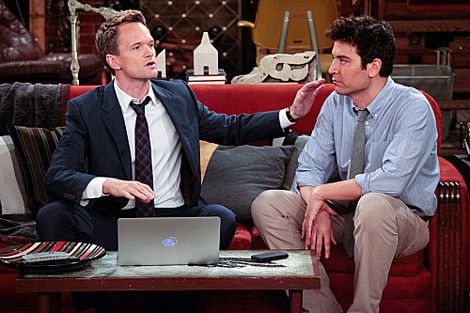 How I Met Your Mother returned last night with the fun and creative episode, "Bedtime Stories."  With the weekend of Barney and Robin's wedding encompassing the entirety of the ninth and final season, show creators Carter Bays and Craig Thomas were obviously going to have to come up with some ways to toss in other stories for a change of pace.  Last night's episode was comprised of three stories that Marshall told to his son Marvin to try to get him to fall asleep on their bus ride out to Long Island.

Story one: "Mosby at the Bat."

A new physics professor named Lisa had asked Ted for advice on lecturing, then asked him if he would have dinner with her.  Back at the bar, Ted tells the gang about the dinner, but is it a date or just a meal between co-workers?  Ted went to go to the dinner still confused?  She was wearing a low cut shirt, which seemed like a good sign, but a handshake at the door instead of a hug left him still puzzled.  Lisa made a comment about the Yankees on the tv.  "About the baseball, you seem to have some first-hand knowledge."  To which the lady shrugged and said, "I played softball in college."  That was just one of the great rhymes in Marshall's bedtime stories.  Softball players often play for the other team.  Could Lisa be a lesbian?  However, then Lisa said that she loves the Yankees because she dated someone on the team.  She says she has a photo to prove it.  It is a photo of her with Barney wearing a shirt that says Jeter.

Story number two:  "Robin Takes the Cake."

Robin had just broke up with a boyfriend and went to a bakery to drown her sorrows.  At the bakery she ran into Simon, an old boyfriend from Canada.  It turns out he was now living in New York and was getting married and picking up the wedding cake.  The news sent Robin in a downward spiral.  She decided to steal Simon's cake and bring it to the apartment.  She didn't stop there:  she started eating it.  Robin says she's going to stop, but then Lily chimes in and says Simon wins if she stops.  "If you've got the guts, my dear, it's time to get empowered.  Be remembered for this sweet behemoth you devoured."  So Robin forged on and ate the whole cake, and now that night is not known as the one when Robin got dumped, but instead the one where they brought her in to get her stomach pumped.

Story number three: "Barney Stinson Player King of New York City."

Years ago the gang was at the bar and Barney spotted a hottie.  Lily told him that the girl was out of his league.  "Your challenge is accepted, for there is no girl to pretty.  For I am Barney Stinson, player king of New York City."  Barney goes on to tell the tale of how he became the king.  He says that he woke up one morning with one of his many conquests.  When he got up and went outside, he saw that he was on East 22nd Street.  Barney was called upon by the council of players, for he had scored a girl outside of his territory.  Barney had reign on the west side of Manhattan, and it was Tuxedo Charlie who ruled the east side.  Bronx Donnie said that he had also been wronged since Barney impersonated Derek Jeter to score the girl, and that impersonating Yankees was his thing.  The council decided that Barney must offer up two west side girls as a settlement.  Barney says that he agreed, and offered up a toast of champagne.  However, he actually poisoned all of their drinks in order to become the player king of all of New York City.

This was a really great change of pace, and I really enjoyed it.  This was the 58th episode of the series written by show creators Carter Bays and Craig Thomas.  Something tells me that they have had this idea in their back pockets for a long time, and that this was finally the moment to pull it out.  You can tell that Craig and Carter miss single Barney, and they came up with a great way to squeeze another classic Barney tale in with this episode.  The nursery-rhyme style of the entire script was incredibly ambitious and turned out awesome.  It was fun to see James Van Der Beek as Simon in Robin's tale.  He was just the latest in the long line of guest stars to reappear this season.  Camille Gauty was some nice additional eye candy as Lisa the physics professor.  Some of you may have recognized her as Piper from the tv show Las Vegas.

The legend continues Mondays at 8 7c on CBS.