Recap: Even With Alicia Keys, Speedy 'American Idol' Show Fails To Inspire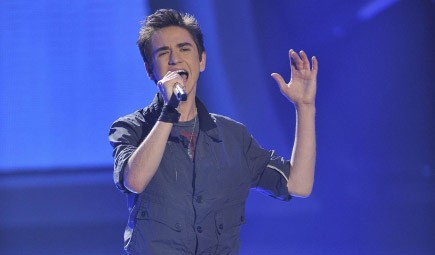 It's the first hourlong American Idol episode.  And you know what that means, time for ninety-second performances where the contestants have no chance to build to any sort of climax or show what they can do.  Oh joy!
In honor of this ridiculous night, let's rush through the intro and get straight to the recap.
Hurrah!
Random Thoughts Waiting for the Actual Show To Start:
A nice sped-through introduction from Ryan.  I imagine we'll be seeing plenty of this expedience as they attempt to shove seven performances in 44 minutes. . .er. . .one hour.
I think Alicia Keys is great, but did she really change R&B forever?  Isn't that just a tad bit hyperbolic?
Yeah, I'm sure Crystal just happened to ask Alicia, "How does it feel to take part in Idol gives back?" while the camera was shoved in her face.  No prodding there whatsoever.  Okay, that's the last bit of charity snark out of me.
And. . .On with the show!
Casey James Sang "Don't Stop" by Fleetwood Mac
Alicia Said: I want to encourage you to connect with it.  It's so well-known, that they might dismiss it.
Randy Said: It was good.  It wasn't your best.  We keep seeing the same thing each week.
Ellen Said: You're consistently good, but nobody's going to be talking about that tomorrow.
Kara Said: It's like jam band.  (Huh?  Does Kara know what a Jam Band is?)
Simon Said: That wasn't particularly inspiring.  A lazy song choice.
The Verdict:
I was instinctively ducking beer bottles throughout this performance.  I felt like I was in that bar in "The Blues Brothers" where the crow annihilates a metal cage with their empty containers.  This was nothing more than something you'd see in a bar like that.  Somebody walks up to some second-rate blues musician and says, "Do you know any Fleetwood Mac?"  He begrudgingly replies, "Sure, darlin'" and breaks into this half-hearted rendition.  The scary thing – Casey was so clearly trying with this performance yet still seemed to be a million miles away from the song.  There was nothing really bad about it, it just wasn't anything that several thousand people in saloons around The States couldn't do just as well.
Grade: C-
Prediction: Lame out of the leadoff spot.  Suddenly, Casey's in major danger in this reduced field.
Lee Dewyze Sang "The Boxer" by Simon & Garfunkel
Alicia Said: People have to feel like you are that boxer.
Randy Said: I think you're gonna have a big career.
Ellen Said: Your best performance by far.
Kara Said: Simon said a few weeks ago you had your moment, but I think you just had it tonight.
Simon Said: Sincere, emotional and inspirational.  You made it sound as if it was written a week ago.  Absolutely brilliant.
The Verdict:
Paging James Blunt.  Paging James Blunt.  Whatever happened to you?  Oh wait, there you are, looking strangely like Lee Dewyze.  This is just a great arrangement of this song.  "The Boxer" is a classic but really a moment in folk time.  Lee makes it current with this fuller pop R&B version and manages to find the emotion at the same time.  If you heard this on a top-40 station and didn't know what it was would you be at all surprised?  Sterling.
Grade: A-
Prediction: What'd I say last week?  Oh yeah, Lee is going to win.  Ipso facto, no danger this week.
Tim Urban Sang "Better Days" by The Goo Goo Dolls
 Alicia Said: It feels really good on him.
Randy Said: It was just okay karaoke.
Ellen Said: Today I didn't like the soup.
Kara Said: This is where you belong, but it's not the best execution.
Simon Said: This may have been a step too high for you.
The Verdict:
Tim is making some very smart song choices these days – trying to establish himself as the second coming of Plain White T's, with less talent (y'know, if that's even possible).  This performance is really a bit all over the place.  He has a couple of nice moments when the melody soars, but those are offset by his missing notes by a stupefying margin.  I imagine people will like this, but I certainly thought it wasn't even one of Tim's best – now that's saying something.  And what was with that look he gave the camera at the end?  I wonder if it's possible to be convicted of a sex crime simply based on a facial expression.  If so, Tim better get a good lawyer.
Grade: D
Prediction: The case of Tim grows curiouser and curiouser.  The judges mightn't've loved that one, but I bet there's a million young girls who did.  Not to mention the fine folks at VFTW.
Aaron Kelly Sang "I Believe I Can Fly" by R. Kelly
Alicia Said: If he can be crying by the end of the song then he can take it to a whole nother place.
Randy Said: You did a good job with such a giant song.
Ellen Said: I believe you can fly and you're on your way.
Kara Said: Watching that was like taking off.  (Whatever, Kara.)
Simon Said: If I'd have heard that on the radio, I would have turned it off in ten seconds.
The Verdict:
When I was in Middle School the school choir performed this song at an assembly we were all forced to go to.  A guy named Josh was given a solo and sang the entire lead vocal of this song by himself while the choir backed him up like the gospel choir in the R. Kelly video.  The version turned in by a 13-year-old Josh was more compelling, mature and better-sung than that boring bit of muddle Aaron just trotted out.  Just nothing even worth paying attention too.  It was like seeing a kid sing on a float at a Disney parade.
Grade: D-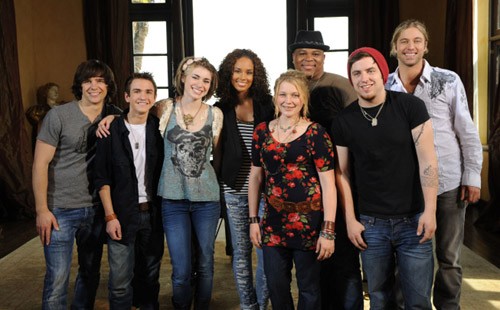 Prediction: Everyone seemed to like that.  So I suppose America will follow suit.  Can't imagine why.
Siobahn Magnus Sang "When You Believe" by Whitney Houston and Mariah Carey
Alicia Said: She's doing things that I don't think most people can do.
Randy Said: It was just okay to me.
Ellen Said: More confirmation as to why you're here.
Kara Said: It was too theatrical.  I'd rather hang out with you than buy your record.  (Seriously, Kara.  We needed to hear that?  I'd like any Idol columnist out there who wrote a column after the fourth Hollywood performance show about how great Kara is this season to go ahead and eat their hat right now.)
Simon Said: I don't think that was the right song for you.  The whole thing was a bit odd and a bit all over the place.
The Verdict:
This is quite theatrical and she did absolutely nothing to make the song her own, but her voice is just so damn good that none of that really seems to matter.  She absolutely owned this vocal from the littling notes of the opening to the quiet drama of her finale.  And nobody.  Nobody is even close to as comfortable or as poised as Siobahn is on stage.  It wasn't stupendous, but it was certainly impressive.

Grade: B-
Prediction: Ms. Siobahn could be in a bit of trouble this week.  I guess it depends on how much people want to hang out with her.  Right, Kara?
Big Mike Sang "Hero" by Chad Kroeger featuring Josey Scott
Alicia Said: As long as he brings people on a ride, he'll soar.
Randy Said: You held your own.
Ellen Said: I thought you did a great job.
Kara Said: It wasn't my favorite performance.  You don't have the tone for that voice (huh?).
Simon Said: It felt a little bit artificial to me.  I still think you're going to be around next week.
The Verdict:
At the beginning it seemed like he was going to do something special with this song.  Turn into something like Five For Fighting crossed with Luther Vandross.  Unfortunately, he didn't stay on that acoustic soul vibe and went for the big stadium rock.  That's still an improvement over the original but it felt a bit large for Big Mike – like he was really reaching and simply shouting during the bigger portions of the chorus.  It was still good, it just could have been much better.
Grade: B
Prediction: The last time the judges didn't love him, he got voted off.  Could it happen again?
Crystal Bowersox Sang "People Get Ready" by Curtis Mayfield
Alicia Said: I know that people are going to love this performance.
Randy Said: Gotta give you the standing O.
Ellen Said: That was so beautiful.
Kara Said: They call you Mama Sox because you just schooled all those contestants.  (Please, please cut Kara's mic early).
Simon Said: That was inspirational.
The Verdict:
Here's what I said to the lamp next to my couch going into the commercial when Ryan said that Crystal would be going without an instrument tonight: "Wow, that's a stupid decision."
Well, lamp, turns out I was wrong.  This was the first time that I've seen Crystal really sing a song, rather than just aping the image of somebody singing a song.  I don't know how to make that analogy any more clear.  Let's just say, that while I don't really believe Crystal's soul very often (see: ever) tonight I actually felt what she had going on.  Even if she cried at the end.  Spare me.
Grade: B+
Prediction: Yeah. So she's safe.
Final Thoughts:
When the show's this fast it's hard to catch your breath, let alone formulate any sort of opinion on what happened, but I suppose that's what I'm here to do, so here's the truncated version:
Lee and Crystal were really good.  Siobahn and Big Mike got the job done.  The other three guys deserve to go home.
In fact, I think the other three guys will make up the bottom three.  And, in a bit of shock, Casey is the one going home.  Just way too hard to get past being forgettable out of the one hole.
Hope everyone enjoyed the "Idol" speed round!