Recap: 'Downton Abbey' Season 4, Episode 4 - Anna And Bates Drama Ahead!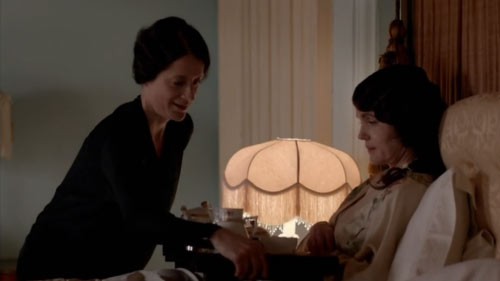 Meanwhile, Daisy helps Alfred prepare for his Ritz hotel cooking test.  She's a jumble of emotions, happy to spend time with Alfred, but sad that the work they're doing means he might be leaving.  Fortunately for Daisy, and not so fortunately for Alfred, he does not pass the test, which means he'll stick around Downton, for now at least.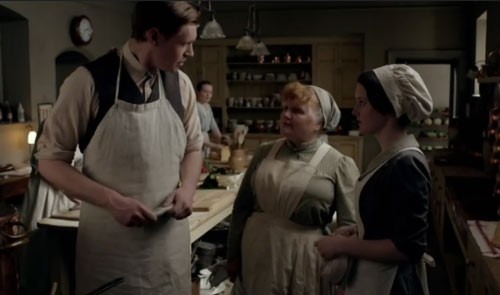 Mrs. Patmore continues to wage war against the modern mechanization of her kitchen.  Lady Cora wants a refrigerator installed to replace the old ice box, which sends Mrs. Patmore into a tizzy.  When Lady Cora asks her if there isn't some aspect of the present day she would accept without resistance, Mrs. Patmore does admit she wouldn't mind getting rid of her corset.
But of course the main storyline downstairs this week was the drama between Anna and Bates.  After Anna keeps avoiding Bates and refuses to tell him what happened, he goes into Bates-stealth-mode.  He eaves drops on a conversation between Anna and Mrs. Hughes, in which it's revealed that Anna's not pregnant (huge sigh of relief), but she's still unwilling to tell Bates what happened for fear of his own safety.  Bates then meets with Mrs. Hughes, telling her he'll resign if she doesn't tell him what happened.  This seemed border-line bullying to me, but it did the trick, and Mrs. Hughes spills the beans, but does not name the attacker.  Bates is no fool, and guesses right away that it must have been Lord Gillingham's valet, Green.  For Anna's sake, Mrs. Hughes swears on her mother's grave that it was not.  Bates then goes and finds his wife in the boot room, and tells her he knows, and that he suspects it was Green.  And if it was him, "he's a dead man."  Anna assures him it was not, and that the person who attacked her is untraceable.  Anna sobs with relief as Bates tells her how he loves her even more and has in fact put her on an even higher pedestal after what she's been through.  All seems rosy in the Bates's garden once more, with Anna telling Mrs. Hughes she plans to move back in to the cottage with her husband.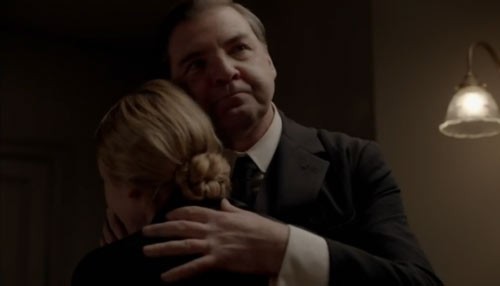 Mrs. Hughes approaches Bates and tells him how glad she is that the whole horrible nightmare can be put behind them.  Bates keeps a pleasant smile on his face as he informs her that nothing is over and done with, despite what Anna says.  And a revenge-fueled Bates limps off down the hallway as the screen fades to black.
I'm not sure how I feel about this turn of events.  Did I see it coming?  Of course.  But it bothers me that the horrible assault on Anna did not turn into a strengthening of her character from within, but rather an opportunity for Bates to show his inner-dark side once again.  But, at the same time, that last scene sent a little chill up my spine and had me wondering how this was going to play out.
What did you think of the turn of events in this episode?