Recap: 'Dancing With The Stars': Season 7 First Night

Thirteen stars graced the ballroom floor with their presence on
Dancing With The Stars
' Season Seven premiere event. Monday marked the first of the three night event. Each of the stars danced either the Cha Cha Cha or the Foxtrot with their professional partners and were judged by ballroom professionals,
Len Goodman
,
Bruno Tonioli
and
Carrie Ann Inaba
.

Up first, the youngest competitor
Dancing With The Stars
has ever seen, 18-year-old
Cody Linley
.
The Hannah Montana
star got paired with golden girl and two-time champ
Julianne Hough
. In his pre-dance interview, Linley said he would have to stay focused on the cha cha cha rather than Julianne's hotness. The judges thought he had good energy, but was kind of wild. They thought his youth would need to be reigned in a little to gain momentum in this ballroom competition. Linley's three 6's got booed from the audience. He and Julianne, however, seemed pleased enough with a score of eighteen.
Next to dance, someone far out of his comfort zone,
Chef Rocco DiSpirito
. Unfortunately for Rocco, his partner
Karina Smirnoff
injured her ankle during a dress rehearsal leaving them disadvantaged. While Carrie Ann thought that Rocco's rendition of the Foxtrot was "cute," Len said it lacked finesse leaving them with a 14; two 5's and a 4.

After being diagnosed with heart disease,
Toni Braxton
said she was scared to do much of anything, let alone compete on
Dancing With The Stars
. But her cha cha cha with Season 1 champ Alec Mazo was nothing to be afraid of. The two were praised by the judges claiming their dance was fantastic and filled with clever choreography. Bruno emphasized how much he liked his divas and gave Toni the first "8" of the evening, making her score a very high 22.
Olympic gold medalist
Maurice Greene
followed Braxton's performance. Partnered with two-time champ
Cheryl Burke
this sprinter danced a "wild and wacky" foxtrot that "wasn't ballroom enough" for judge Carrie Ann who compared him to
James Brown
. Regardless of three 6's, Maurice was all smiles.

It seems that professional ballroom dancer Derek Hough has all the luck when it comes to being paired with lovely looking women. From
Jennie Garth
to
Shannon Elizabeth
to his current partner
Brooke Burke
, Hough joked that he and the producers were in on a secret deal. Burke, a model/TV host was praised by Carrie Ann for having an amazing body made for dancing. Other model competitors haven't had the best of luck on the show. It also might have been a first in DWTS history that a model wasn't put in a skimpy costume to dance in, but pants! Brooke's cha cha cha was deemed the "best dance" of the night and received the high score of 23.
Brooke Burke, Derek Hough

Former
Married with Children
actor,
Ted McGinley
performed the foxtrot with
Dancing With The Stars
' professional newcomer Inna Brayer. The judges said the dance was very entertaining and Len even commented that he had style, elegance and good footwork. Despite the praises, Ted only received an 18 from the judges.

Another professional newcomer, Lacey Schwimmer was partnered with her *Nsync idol
Lance Bass
. Her costume was homage to him with his picture plastered on her hip bone. But this
So You Think You Can Dance
finalist didn't help Lance beat Brooke's score of 23. Lacey and Lance received a 22 for their cha cha cha because Len felt it was young and modern while he is looking for old and traditional. The other two judges felt that the dance was hot and spunky and showed Lance's potential was right up there with former band mate
Joey Fatone
who came in 2nd place in season four.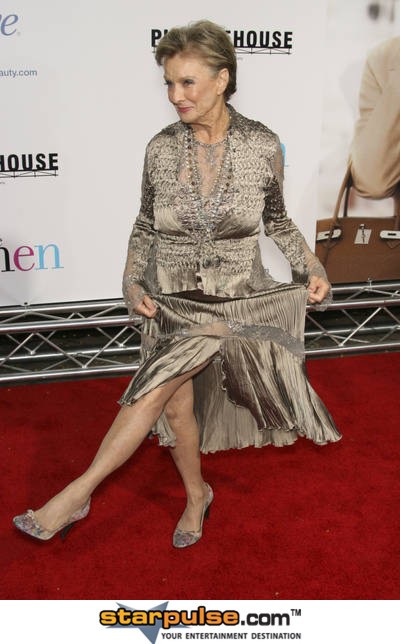 And then there's the oldest
Dancing With The Stars
' competitor
Cloris Leachman
. At age 82 with 9 Emmys a Golden Globe and an Oscar under her belt, she takes the stage to compete for the coveted mirror-ball trophy. She was partnered up with professional Corky Ballas who is the father of Mark Ballas (Season 6 reigning champion) and who taught fellow competitors Julianne and Derek Hough all they know about the ballroom. Even with her "battlestar geriatrica" performance, she still earned a standing ovation from the crowd. She then proceeded to somewhat make a fool out of herself by throwing her leg up on the judges table in front of Bruno and sit on Carrie Ann's lap while her cleavage distracted Len from giving her a review. I doubt Cloris has any intention of staying on the show very long with her very slow, off balanced dancing. I also don't think the live show can handle too much of her argumentative nature and her bleeped out cussing at the judges. But then again, how many eighty-two year olds would be caught dead dancing on live TV in the first place? If nothing else, the judges' pity gave her 16 out of 30.
Comedian
Jeffrey Ross
was yet another person to suffer a Dancing With The Stars injury. During practice, his cornea was scratched leaving him practically blind in one eye…for the time being. The doctors suggested that he shouldn't be dancing, but he came out and performed. But despite his best efforts, he earned the lowest score of the evening for his cha cha cha. Even after he tried to impersonate Cloris Leachman by throwing his leg on the table, the judges couldn't muster up the same sympathy and gave him a grand score of 12 - three 4's.
And then there's reality TV star
Kim Kardashian
, hoping to get rid of her party girl image by showing class and sophistication on this season of
Dancing With The Stars
. Kim is paired up with season six champion Mark Ballas. Kim, though, is no
Kristi Yamaguchi
. She openly admitted that she has terrible balance - not the greatest thing in the ballroom world. The judges felt that they couldn't connect with her and that she needed to open herself up more to the room, but overall they were happily surprised at this Kardashian's talent and gave her a 19.
Susan Lucci's
skimpy outfit couldn't save her and partner Tony Dovolani's cha cha cha from getting the third worst score of the night. She was overly nervous and the judges claimed she looked "frail" and needed to be more of a "slut" on the dance floor. Three five's might prevent her from dancing another day.
Straight from Beijing, two-time Olympic gold medalist
Misty May-Treanor
took the floor to perform the foxtrot with partner Maksim Chmerkovskiy. She was so worried that she wouldn't look lady-like because she's a jock. Well, the costume designers definitely helped her look feminine in a sleek black gown complete with curly hair. She looked like she enjoyed herself very much on the dance floor, something that athletes seem to be quite prone to do on this show. It's odd that it's the actors that get such stage fright when performing live. The judges loved Misty May's intensity and it earned her a well-deserved 21.
And last, but not least was NFL pro
Warren Sapp
. As a member of the Tampa Bay Super Bowl championship team, this defensive tackle was oh-so-light on his feet with partner Kym Johnson. He could shimmy and shake with the best of them proving Bruno's claim that "big boys can dance!" He earned a 6, 7 and 8 earning him an overall 21.
Give us your thoughts of DWTS and check back for recaps after each performance.
Story by
Beth Wickman
Starpulse contributing writer